Guard Your Marriage against the Subtle Serpent
Dr. Gary and Barbara Rosberg, America's Family Coaches
Tuesday, May 12, 2009
You may say, "We're Christians, so the culture doesn't influence us that much." If Satan's influence through the culture didn't affect believers, we wouldn't need the clear instruction found in 1 John 2:15-16, which is written to Christians: "Stop loving this evil world and all that it offers you, for when you love the world, you show that you do not have the lover of the Father in you. For the world offers only the lust for physical pleasure, the lust for everything we see, and pride in our possessions. These are not from the Father. They are from this evil world."
The devil probably knows he can't convince you to dump your spouse and run off with another man or woman. But he will try to keep that option looking attractive to you through the media and other means. He will do his best to stoke the fires of lust enough to distract you from full devotion to your spouse. And if he can keep you distracted by the world's view of marriage and sex, your marriage will be much less than it could be – which suits him just fine.
We're not advocating that you take a sledge hammer to your TV, torch all your paperback novels, or swear off attending movies. But as a couple you must exercise guarding love by holding each other accountable to verses like Romans 12:2, "Don't copy the behavior and customs of this world, but let God transform you into a new person by changing the way you think."
We are stuck in this world for now. But as Jesus said, we are not of this world any more than he is of this world. The distractions are strong and plentiful. But guarding love find a way to make it through together without being devoured by Satan. Solomon's instructions in Proverbs 4:25-27 are key: "Look straight ahead, and fix your eyes on what lies before you. Mark out a straight path for your feet; then stick to the path and stay safe. Don't get sidetracked; keep your feet from following evil."
This article originally posted October 18, 2007 in Crosswalk Marriage.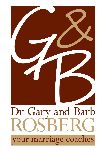 Portions of this article were adapted from "Renewing Your Love," Copyright 2003 by Dr. Gary and Barbara Rosberg, all rights reserved. Published by Tyndale House Publishers, Inc., www.tyndale.com. To order this resource or to find our more about Dr. Gary and Barb – Your Marriage Coaches, visit www.drgaryandbarb.com or call 1-888-608-COACH.
Married over 30 years, the parents of two adult daughters and four grandchildren, Dr. Gary and Barb Rosberg, your marriage coaches, have a unique blend of insight and wisdom that touch people of all ages. Together with Gary's 25,000 hours of counseling experience and Barbara's gift of encouragement and biblical teaching, they are equipping thousands of families across the nation through their interactive daily radio program, conferences, and marriage and family resources.
Have something to say about this article? Leave your comment via Facebook below!
advertise with us
Example: "Gen 1:1" "John 3" "Moses" "trust"
Advanced Search
Listen to Your Favorite Pastors