Husbands: You Have Been Called to Die!
Jay Sklar, Ph.D., Two Becoming One
Thursday, January 08, 2004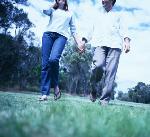 When my friends Todd and Liz got married, they decided that they would not kiss at their reception when people tinkled their glasses.  Instead, they would only kiss if the guests got up and recited a poem.  One of the guests rose to the occasion with the following limerick:

"Todd you sure have your nerve, this woman you do not deserve; but I've done that too, it's God's blessing on you, just remember: to lead you must serve!" 

From a poetic standpoint, the quality of this poem is certainly questionable!   But from a theological standpoint, the last five words of this poem express a fundamental biblical truth about husbands: they are to lead their wives through serving them.  In fact, we could go further: husbands have been called to die for their wives.
Called to Die
In Ephesians 5, Paul turns his attention to the marriage relationship.  In order to describe the proper roles of husbands and wives, Paul uses the model of Christ's relationship to the Church.  On the one hand, wives are told to submit to their husbands as the Church submits to Christ (vv. 22-24).  On the other hand, husbands are told to love their wives as Christ loved the Church (v. 25).  In fact, Paul's words for husbands go as follows:
"Husbands, love your wives, just as Christ also loved the Church and gave Himself up for her" (v. 25). 
The verses after this make clear that Jesus did this because He loved and cherished the Church and sought her best good (vv. 26-27).   This love for the Church ran so deep that He put aside His rights and privileges "and gave Himself up for her" by dying on a Roman cross. 
Husbands, this is a sobering message: you and I have been called to love our wives in the same way.  We have been called to die.
So what does this look like?
Practical Ways to "Die"
Very few of us will actually have to die physically for our wives (though there are certainly times when our wives would like to kill us…) There are many ways in which we can "die to ourselves", however, by giving up our rights and privileges as Jesus did and serving our wives.
1. Dying to our pride in arguments – The dynamics of many arguments go like this: some event happens that leads to an argument.  The argument exists because our spouse looks at the event from one perspective and we look at the event from a different perspective.  The argument then involves determining whose perspective is correct.  So how does an argument get resolved?


Have something to say about this article? Leave your comment via Facebook below!
advertise with us
Example: "Gen 1:1" "John 3" "Moses" "trust"
Advanced Search
Listen to Your Favorite Pastors