Is Your Marriage in a Rut?
Nancy C. Anderson, Contributing Writer
Wednesday, March 09, 2005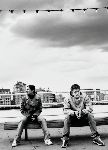 If you've been married for awhile, it's easy to get into a rut, and the longer you're married, the deeper your rut may get. Rut-dwellers usually just stay home and watch TV -- sometimes in separate rooms. Then on special occasions, they might have dinner at the usual neighborhood burger barn or go see a movie at the local theatre. But that's about as exotic as it gets. Booorrriinngg!
If you want to climb out of your rut and try new things, here are some easy-to-implement ideas to give you a boost. Think of the word DATES to stimulate the "creative dating" quadrant of your brain:
Delicious
Adventurous
Thematic
Educational
Surprising
Delicious Dating
They say the best way to a man's heart is through his stomach, but it's true for women, too. Ron, my husband of 26 years, and I love to try new restaurants. Whether we discover a down-home barbecue-rib joint, a mom-and-pop pizza parlor, or a cozy little soup and salad café, we're trying something new-together. We have a book that lists restaurants by categories and price so, depending upon our mood and budget, we can have several choices. Sometimes Ron will pick one, or I may choose, or we'll just pick one at random. If you're on a tight budget, you can always split an entrée and order an extra salad.
You can also have a delicious date at home by making a meal together. If you have kids, make them some macaroni and cheese and send them to bed early. Then make a romantic or exotic dinner as a team. My cousin, Linda, loves to cook alongside her husband. They have a custom-built kitchen with twin sinks, doublewide countertops, and two dishwashers. But even if you don't have a fancy kitchen, you can chop and sauté as a team. Remember, there is no right or wrong way to date and dine, just do what you enjoy -- together.
Adventurous Dating
Most of us won't be able to do exotic things like sky diving or traveling on an African Safari, but there are ways to find adventures in our own neighborhoods and within our budgets.
Do something out of the ordinary; discover a new exciting activity for both of you. Look through the newspaper together. Find the weirdest event -- then go! You could choose a dog show, a chicken plucking competition, a poetry reading, or a watermelon seed-spitting contest. You might even find a new hobby.
Traveling in a new mode of transportation could also be a wonderful new way to see the world, or your hometown. One year for our anniversary, we went for a ride in a horse-drawn carriage. I once borrowed a friend's red convertible, and we went for a sunset drive along the ocean shoreline. If you have the money for a special occasion, a limousine is a wonderfully romantic mode of getting from point A to point B. If you can't fit a limo into your budget, most bike shops will rent you a snazzy bicycle built for two.
Be adventurous: do something new!
Thematic Dating
If you want to have a special occasion date, build it around a theme. You could include the kids on these dates. It's good for them to see their parents holding hands and having fun.
A fifties date might include driving to a malt shop while playing a "Hits of the Fifties" CD and, then, after you share a chocolate malt -- two straws please -- rent a James Dean movie. A western theme date might include chowing down at a rib-joint, going horseback riding, or watching a Roy Roger's movie.
Have something to say about this article? Leave your comment via Facebook below!
advertise with us
Example: "Gen 1:1" "John 3" "Moses" "trust"
Advanced Search
Listen to Your Favorite Pastors