Longing for Children: Facing Infertility in Marriage
Jennifer Saake, Author
Tuesday, September 11, 2007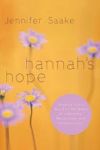 For this is the way the holy women of the past who put their hope in God used to make themselves beautiful. They were submissive to their own husband, like Sarah, who obeyed Abraham. . . . You are her daughters if you do what is right and do not give way to fear.
1 Peter 3:5-6
I can point to definite times when, had I given Rick's concerns more credence, I would have saved us both a lot of heartache. An example that immediately comes to mind is the adoption lead I pushed hard to pursue, even when Rick repeatedly, though quietly, stated his discomfort with certain aspects of the situation. It turned out to be a scam. I could have prevented much grief by listening to Rick's misgivings early on.

In the very week I am writing this chapter, I've spoken with three women about regrets over past choices in their fertility journeys. These were choices they pushed for that will carry lifelong painful consequences. In each of these case their husbands had mentioned some level of concern with the given pursuit, while the wife felt it to be the "right thing." Each woman longs to be able to turn back time and give her husband's comments more prayerful consideration. Here's one such example:
I didn't realize how much having a child had consumed my life. It's so easy for women to take the lead in managing the infertility situation.

My husband wanted to please me, and I think some things he went along with because he wanted to make me happy. . . . I realize now that I wasn't being submissive.

He still needs to be the leader in my family, and he still needs to be part of the decision-making process. There are so many decisions to make. We've been struggling with infertility for over three years, so it's not like we rushed into our decision. But with his personality, I think he was afraid to make the decisions, so he let me take the lead.
Does this mean our husband's decisions are always the "correct" ones? Not necessarily. But we are called to trust God by allowing our husbands to lead us, even in the face of their very human fallibility.

Wives, I challenge you to allow your husband to take the leadership role God has given him. If he doesn't guide your family in this process, resist the temptation to make all the decisions, but gently encourage your husband to help you with them.

Actively pursuing family growth is not sinful. But an obsessive drive that rushes you ahead of God's leading is. If God is convicting your husband about something while striving to build your family, be open to hearing his concerns. Your husband is treating you with honor and love when he is honest with you. The Bible is clear that your marital relationship is to be a gentle, loving partnership in order to maintain clear communication with God.

While yielding to conviction is imperative, it is also important to note that just because something seems unnatural or uncomfortable, it isn't necessarily outside God's plan for your family. One of you may be ready to apply to an adoption agency long before the other is even ready to consider the possibility. One might not feel any peace about taking another step down the medical route, while the other wants to go as far as humanly possible in pursuit of a biological child.

The marriage passage in Ephesians 5 actually starts with instructions to all Christians: "Submit to one another out of reverence for Christ" (verse 21). Many times the concept of "mutual submission" is overlooked within marriage, but we need to remember that our spouse is also our brother or sister in the Lord. The Holy Spirit may speak to either one of your hearts. On a regular basis, take time to truly hear what your spouse is thinking, and give fair and prayerful consideration to all the feelings and desires.

Husbands, leading your wife in a godly and loving marriage is a weighty responsibility. Because you love her, you must seek hard after God's best and make wise decisions together with her. Carefully research the options and bathe each choice in prayer. Where either of your hearts or bodies are involved, do not unilaterally mandate the course you will follow.

For Further Thought

Wives, are there areas where you are taking a leadership roll without listening to your husband's insights? Ask the Lord to help you put your journey to parenthood under His authority, through submission to your husband.

Husbands, are you regularly expressing your love and support to your wife during this time of heartache? Ask the Lord to show you creative ways to treat your bride with honor and to work with her in godly decision-making processes.

Heart Treasures

Genesis 3
Judges 13
Proverbs 27:15-16
1 Corinthians 7
Ephesians 5:22-33
1 Peter 3:1-7

Burden Bearers - Ways to Lighten the Load for a Struggling Couple

Sexual tensions often run high during infertility. After the death of a baby, physical intimacy is emotionally entangled with the creation (and loss) of life. Statements such as "Do you guys know how babies are made?" or "At least you can have fun trying!" cut me to the core.

Please pray for every aspect of our marriage to be strengthened through this time of trial. Send us on a date night (a dinner gift certificate, a packed picnic basket, an offer to baby-sit our living children) or give us resources to strengthen our marriage (tickets to a marriage conference, a subscription to a Christian couples' magazine, marriage devotional books).
Originally posted January 3, 2006.

Jennifer Saake and her husband, Rick, are the founders of Hannah's Prayer Ministries (www.hannah.org), a nonprofit organization whose mission is to help women who are infertile or have suffered miscarriage or adoption loss. Excerpt taken from Hannah's Hope and reprinted by permission of NavPress. To order a copy of Hannah's Hope, go to www.navpress.com or www.christianbook.com.
Have something to say about this article? Leave your comment via Facebook below!
advertise with us
Example: "Gen 1:1" "John 3" "Moses" "trust"
Advanced Search
Listen to Your Favorite Pastors