Opposites Attract -- and Drive Each Other Nuts!
Deborah Raney and Tobi Layton, Contributing Writers
Thursday, September 08, 2011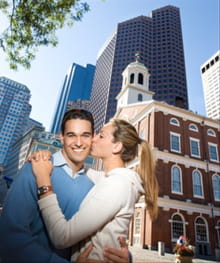 A fresh perspective…
Tobi Layton
When they say opposites attract, they must be thinking of my husband, Ryan, and me. Never were two people more different, yet so mysteriously compatible. Ryan is a pessimist. I am a hyper-optimist. While he gripes about the nuisances of our 70-year-old house, I squeal about how charming the cracked windows and chipped paint are.
I am a planner. Ryan is a take-it-as-it-comes kind of guy. My idea of a great day is one where I don't sleep or eat, but get a multitude of projects done. As a teacher, I am currently on a "break" from work, a time I've looked forward to for weeks. Not so I could slow down, but so I could tackle numerous items on my to-do list that were too big to be done after work.
Ryan, on the other hand, needs his down time, and lots of it. His idea of a perfect day is one with nothing to do but sleep, snack, fool around with his dogs, watch TV, and spend time with me. Herein lies the problem.
I can't count the times Ryan has begged me to stop working and watch a movie or just relax with him. The problem is, as soon as I lay down, I fall asleep. And if I'm not tired, I can't stop talking about the forty-two unrelated things on my mind. Sometimes my husband just laughs at my rambling. Other times, he gets agitated at my flightiness.
I get equally frustrated with his laid back attitude. I want him to do things around the house and I want them done in my time and in my way. I also want him to do things with me, rather than just be with me.
In six years of marriage, we've had our share of arguments on these issues, and I'm sure we'll have many more. But I also think we're starting to realize that our differences compliment each other. I have encouraged Ryan to try new things and he, in turn, has taught me how to relax (a little).
When I worry that I'm not "doing" enough for God, Ryan reminds me that part of my job is to "be still." I've encouraged him to plan ahead a little more frequently, while he's helped me to relax and leave things in God's hands.
I bring light to dark situations with my optimism. Ryan helps me to be more realistic when making important decisions by seeing the not-so-rose-colored view of things.
We're beginning to find a bit of a balance in the way we spend our spare time. I agree to watch an entire movie without clipping magazine ideas or grading papers. He agrees to go on a walk or work on a few projects with me. In fact, just the other day, Ryan planned an entire afternoon of washing and waxing our cars.
We don't have a system perfected yet, and probably never will, but more and more we're able to appreciate the unique qualities with which God has blessed us, qualities that in turn, are a blessing to our marriage.
A seasoned perspective…
Deborah Raney
After three decades being married to my husband, I'm convinced that God has quite a sense of humor when it comes to marriage. When I met Ken thirty-three years ago I was attracted to his quiet, thoughtful ways. He seemed to calm my always-on-the-go, doesn't-know-a-stranger personality in a way I'd never experienced. I liked that.
Until we got married.
Overnight, what had looked like mysterious and shy, suddenly seemed more like rude and antisocial. What had felt like calm in the storm, started to look suspiciously like stuck in the mud. And what I'd deemed "practical and analytical" morphed into "unromantic and critical." I sure hadn't changed. So it must be him, right?
Have something to say about this article? Leave your comment via Facebook below!
advertise with us
Example: "Gen 1:1" "John 3" "Moses" "trust"
Advanced Search
Listen to Your Favorite Pastors