Pray for Your Husband
Stormie Omartian, Guest Author
Tuesday, October 02, 2001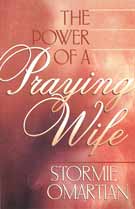 Wait! Before You Write Off the Marriage . . . . .
I confess right now that there was a time when I considered separation or divorce. This is an embarrassing disclosure because I don't believe either of those options is the best answer to a troubled marriage. I believe in God's position on divorce. He says it's not right and it grieves Him. The last thing I want to do is grieve God. But I know what it's like to feel the kind of despair that paralyzes good decision making. I've experienced the degree of hopelessness that causes a person to give up on trying to do what's right. I understand the torture of loneliness that leaves you longing for anyone who will look into your soul and see you. I've felt pain so bad that the fear of dying from it propelled me to seek out the only immediately foreseeable means of survival: escape from the source of agony. I know what it's like to contemplate acts of desperation because you see no future. I've experienced such a buildup of negative emotions day after day that separation and divorce seemed like nothing more than the promise of pleasant relief.

The biggest problem I faced in our marriage was my husband's temper. The only ones who were ever the object of his anger were me and the children. He used words like weapons that left me crippled or paralyzed. I'm not saying that I was without fault -- quite the contrary. I was sure I was as much to blame as he, but I didn't know what to do about it. I pleaded with God on a regular basis to make my husband more sensitive, less angry, more pleasant, less irritable. But I saw few changes. Was God not listening? Or did He favor the husband over the wife, as I suspected?

After a number of years, with little change, I cried out to the Lord one day in despair, saying, "God, I can't live this way anymore. I know what You've said about divorce, but I can't live in the same house with him. Help me, Lord." I sat on the bed holding my Bible for hours as I struggled with the strongest desire to take the children and leave. I believe that because I came to God in total honesty about what I felt, He allowed me to thoroughly and clearly envision what life would be like if I left: Where I would live, how I would support myself and care for the children, who would still be my friends, and worst of all, how a heritage of divorce would affect my son and daughter. It was the most horrible and unspeakably sad picture. If I left I would find some relief, but at the price of everything dear to me. I knew it wasn't God's plan for us.

As I sat there, God also impressed upon my heart that if I would deliberately lay down my life before His throne, die to the desire to leave, and give my needs to Him, He would teach me how to lay down my life in prayer for Michael. He would show me how to really intercede for him as a son of God, and in the process He would revive my marriage and pour His blessings out on both of us. We would be better together, if we could get past this, than we could ever be separated and alone. He showed me that Michael was caught in a web from his past that rendered him incapable of being different from what he was at that moment, but God would use me as an instrument of His deliverance if I would consent to it. It hurt to say yes to this and I cried a lot. But when I did, I felt hopeful for the first time in years.
Excerpted from The Power of a Praying(tm) Wife, copyright 1997 by Stormie Omartian. Published by Harvest House Publishers, Eugene, Ore., www.harvesthousepubl.com, 1-888-501-6991. Used by permission.
Stormie Omartian has authored several other books on prayer that have been best-sellers. She travels across the United States to speak on prayer.
What are some ways you've prayed for your husband, and how has God answered those prayers? Visit Live It's forum to respond, or read what others have to say. Just click on the link below.
Have something to say about this article? Leave your comment via Facebook below!
advertise with us
Example: "Gen 1:1" "John 3" "Moses" "trust"
Advanced Search
Listen to Your Favorite Pastors