Preparing to Marry Judas?
Meg Wilson, Crosswalk.com Contributor
Tuesday, April 03, 2012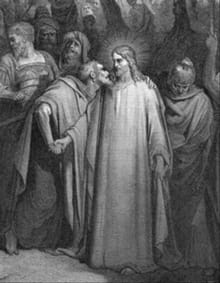 Tracy, an attractive brunette, sat in Sue's living room pouring out her disappointment in round salty drops. Sue was her friend from college, and they had shared many joys and tears over the years.
"I thought I did it right," Tracy sobbed. "I dated only Christian guys with marriage potential. Once I found Mr. Right, we waited for the wedding before becoming involved physically. He seemed like such a godly man."
Then came her bombshell.
"We didn't even make it to our second anniversary before he cheated on me. Then I found out he was looking at pornography on the internet and has been since he was a teen. I feel like I married a traitor. How many nights has he come home to me after being with her, or looking at countless images, only to give me a Judas kiss? My folks told me we were going too fast. Even you tried to tell me."
Sue worked with the college girls at her church, and as she listened to Tracy's story, her mind raced to recent conversations with a girl in her group. Brittany talked about her "Mr. Right" and nothing else.
"He is such a good Christian," Brittany often said. "I just love to watch him play the guitar with the church worship team. I can SO see myself with this guy."
At the next youth meeting, with Tracy's story fresh in Sue's mind, she decided to ask Brittany some basic questions. Their conversation went something like this.
"How long have you known Jeff?" Sue asked.
"Two wonderful months."
"What makes him a good Christian?"
"He loves to worship the Lord and he likes going to church."
"What is one fault that you've found?"
Brittany looked confused, "Oh, I can't think of anything. He is everything I prayed for in a guy."
Sue paused, "What about his family, how do you get along with them?"
"Oh, we hardly see them. We just love being together. Why so many questions, Sue?"
Sue gathered her thoughts before she spoke."Brittany, it's great that you've found someone special, but now's the time to really get to know Jeff and his family. If you did get married, it would be a package deal. You would not only get Jeff, but also a mother and father-in-law. Not to mention his siblings and other family members."
"I never thought about it like that," Brittany said.
Sue asked, "What will you do when the first real test comes?"
"What kind of test?"
"Brittany, you both will let the other down at some point. Every one of Jesus' disciples who loved him betrayed Him after his crucifixion."
Brittany stared at Sue with a puzzled expression. Then she said, "I haven't really given this relationship enough thought. It's all been about my feelings and dreams. Thanks for being real. I'm going to have to open my eyes and ask some hard questions."
Sue decided to see how the other girls felt about finding their future husbands. How many other young women, like Brittany, approached dating with only idealistic notions about marriage? Their search for "Mr. Right" had turned into a search for "Mr. Feel Right." These dreamy ideas come from movies, romance novels, even fairy-tales — all based in fantasy! Christian women often add the ideal of Jesus on top of these romantic notions, forgetting He was the only perfect Man. And He won't be found at the altar in a rented tux.
Many young women also envision their future husband, their prince, as a new and improved version of their dad — assuming they had a healthy relationship. If the relationship was poor or damaged, then they choose a "prince" that they think is a polar opposite of Dad.
Have something to say about this article? Leave your comment via Facebook below!
advertise with us
Example: "Gen 1:1" "John 3" "Moses" "trust"
Advanced Search
Listen to Your Favorite Pastors