Pursuing True Fulfillment in Marriage
Deborah Raney and Tobi Layton, Contributors
Friday, December 30, 2011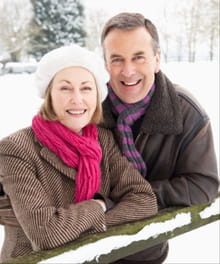 A fresh perspective…
Tobi Layton
January seems to bring about a spring-cleaning of one's life. Around the beginning of each year, people start to make ambitious plans. Lose a few pounds. Invest more money. Take up a new hobby. Organize their junk drawer. All of these endeavors are beneficial, yes, but they share what most New Year's resolutions share––the spirit of self-fulfillment through self-improvement.
Don't get me wrong, I'm all for the old military adage to "be all that you can be," but sometimes I think in our pursuit of improving ourselves, we neglect our higher calling to "encourage one another and build each other up (1 Thessalonians 5:11 NIV)." Nowhere is this a more important mission than in marriage. Unfortunately, I have found after only five-and-a-half years of marriage, that I am more generous with criticism than I am with encouragement when it comes to Ryan.
My husband, like any person, (and certainly any man, I think wives would agree) is not without faults. I won't detail them here, but I don't hesitate to do so in any argument between the two of us. Just the other day we were discussing one particular shortcoming that has recently been bothering me.
Ryan has been taking a few classes to finish his teacher certification. One of the classes is an independent study course where students are given nine months to complete thirteen lessons. It was month eight and Ryan had one lesson completed. Being the type of person who would have scheduled the workload to be completed in thirteen weeks or less, it still irks me to think about Ryan's procrastination.
I employed a variety of strategies to get him to do the lessons, from gentle reminders to "how can you be so lazy?" laments. But none of my tactics would fall under the definition of encouragement in 1 Thessalonians.
One day, Ryan laid down the law. He emphatically told me that he was aware of the impending deadline, that it bothered him every day (including the days I failed to mention it), and that I was not to ask him about it again. Ryan is not the type to put his foot down so bluntly, so I huffed and took heed.
A few days later, when we were discussing what we wanted to do with our few remaining days of Christmas break, Ryan declared that he wanted to tackle the course work. I played it cool, but inside, I was doing quite the happy dance, simultaneously breathing a huge sigh of relief. I suggested that I take our son to the sitter's on my first day back to work, so Ryan could have a quiet house to work in, since he had the day off. Wouldn't you know, the stinker finished six assignments in two days!
Undoubtedly, despite his eight idle months (and my eight-month-long panic attack), Ryan will receive a gleaming A in the class. The man works excellently under pressure. Just not under my kind of pressure.
It occurs to me now that if I had asked Ryan how I could help him instead of questioning why he wasn't getting the job done, he may have chosen to pull his homework marathon a few months earlier. I also wonder how both our lives might be improved if I sought more often to build up Ryan, focusing on his strengths instead of his flaws.
I drive by a church marquee on my way to work that currently features an acrostic with a great prescription: JOY – Jesus first; Others second; Yourself last. In 2007, I pray for the strength and wisdom to help my husband be all that God wants him to be. And in that pursuit, I have a sneaking suspicion I'll feel pretty fulfilled myself.

A seasoned perspective…
Deborah Raney
Have something to say about this article? Leave your comment via Facebook below!
advertise with us
Example: "Gen 1:1" "John 3" "Moses" "trust"
Advanced Search
Listen to Your Favorite Pastors