5 Ways to Encourage Your Husband to Dream
Cindi McMenamin, Author
Tuesday, October 25, 2011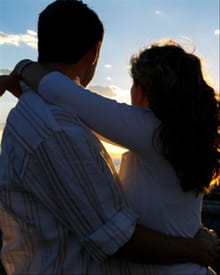 Editor's Note: This is Part 2 of a 2-part Series. To Read "Part I- Why It's Important for Your Husband to Dream" click here.
As I was researching my book When A Woman Inspires Her Husband I discovered that a man expresses his heart in a very special way when he expresses a dream.
But often we, as wives, can discourage – or even destroy – that dream if we're not careful in how we respond.
Rather than saying "That's not safe" "That's not practical" or "That's just plain stupid!" here are five ways (in an acrostic spelling DREAM) that you can draw out of him his dream and encourage him to pursue it for the sake of his heart and your own.
D - Draw out of him the dream
When it comes to the dreams on your man's heart, they may be stuffed deep and it may take some creativity and some luring to get them out of him. There may also be some wounds attached to some dreams he's had, especially if they go back to childhood. Maybe he once dreamed of doing something with his father and his father is gone now, so he doesn't talk about it anymore. Or worse yet, maybe he dreamed of something that his dad – or someone else – discouraged him about or made him feel he wasn't up to it. Tread lightly, yet affirmatively. Ask your husband what he'd love to do if time or money were no object. If he's stuck in practical mode or insists he has no dreams, give it time. And listen for ways that he implies a heart's yearning. It could be something simple like: "I've never been to a pro football game. That would be pretty cool." Encourage him to dream by telling him you'd like to see him achieve his heart's desire so it's about time you start talking about it.
R -- Respond positively
Instead of telling him: "Yeah, right, like that could ever happen!" be the optimist (and cheerleader) instead: "I think that's a wonderful dream. What could we begin doing now to see that it happens someday?" If his dream seems far fetched, start praying about it. If it's clearly beyond his reach at this season in your lives, then get creative in ways that can reinforce the dream and keep it alive.
Lisa's husband, Rick, has always dreamed of visiting other countries. So Lisa got creative and started finding a way to honor Rick's dream, and to keep him dreaming of what they hope to someday experience together.
"We have monthly date night," Lisa said. "Sometimes I choose a country, go to the library, borrow musical CDs and books to get ideas for clothes, culture and so on, and then dress for the occasion, decorate accordingly, order take out, and let him enjoy a 'night in another country!'"
E - Encourage him to take the first step
For years, Jodi's husband, Troy, has been talking of renting a charter boat and going walleye fishing with his friends. So for his 40th birthday, Jodi surprised him by booking a six-man charter boat to walleye fish on Lake Erie.
While some men might feel a little uneasy about their wives planning their dream for them, there are those who might never get out the door if you don't lend a hand – or a push – to help them. Jodi found the balance. She surprised her husband with his dream as a gift, to get him started, and has since turned over the helm so he can now make it happen for himself.
A -- Acknowledge his adventure
Recently on Relationships
Have something to say about this article? Leave your comment via Facebook below!
advertise with us
Example: "Gen 1:1" "John 3" "Moses" "trust"
Advanced Search
Listen to Your Favorite Pastors