5 Ways to Encourage Your Husband to Dream
Cindi McMenamin, Author
Tuesday, October 25, 2011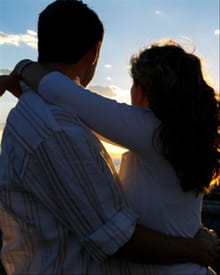 It is natural for one of your husband's dreams to be something that implies risk, danger or adventure. And one of the most discouraging things a man can hear from his wife is "that's too dangerous." Or "not as long as I'm your wife" or even "you could never handle that." One very important aspect of encouraging your husband to dream is letting him live from his heart. Many times a man will want to do something that doesn't seem safe or practical. But those may be the times you need to smile, nod and tell him "Have a great time, honey."
I remember when Hugh first told me he wanted to climb Mt. Rainier. Now, Hugh is an experienced climber, who had been to the tops of several Southern California peaks. But I'd also heard of the reports of climbing accidents and missing climbers and the deaths that have occurred while climbers attempted Rainier. So, naturally, I had reservations when Rainier was next on Hugh's list of mountains to scale. He spent a few days, off and on, explaining to me the conditions under which certain accidents happened and how he was not foolish enough to climb alone, to climb without proper equipment, or to attempt a scale or descent if weather wasn't permitting. But finally, when I still didn't relent, he sat me down and said: "I don't need to hear you say 'be careful.' That's something my mother would say. I really need you to be excited about this with me and to be confident that your man can accomplish this and to say 'Hugh, I hope you have a great time.'" Honestly, I thought he was hearing "I love you and don't want to lose you" in the words "Be careful." But he was, instead, hearing "I don't think you're capable of this and therefore I'm worried that something will go wrong." I gritted my teeth, tried to sound enthusiastic and told him "Have a great time." And he did.
Nothing speaks to your husband's male heart more than encouraging him to enjoy his adventure, not tiptoe through it. He doesn't want to be burdened by the thought that you're worrying. And besides, he wants you to be confident he's man enough to handle whatever is coming his way. Whatever you do, don't say something motherly like: "If you do something dangerous, I'd be better off not hearing about it" or worse "If you're not careful, I'll never let you go again!" Say, instead, "Have the time of your life. And I want to hear all about it when you return." What release! What empowerment. And only you can empower him that way.
M -- Make it happen – or make it a matter of prayer
Some husbands just aren't planners. They can talk about a dream for year – as Jodi's husband did – but might not have the confidence or knowledge of where to start to make it happen. That's where you might come in, if he's open to letting you help him get there.
Edie's husband, Bill, dreamed most of his life of taking a trip to Africa. But to him, it was just that, a dream. When he retired, Edie planned his dream for him. "I wanted to support his dream because I believed that he deserved it after all his hard work." She worked on the details, did the budgeting so they could afford it and upon retirement, Bill, his wife, and their two grown sons went to Africa and experienced a real-live safari.
If you do not have the ability or finances to help your husband achieve his dream, then it might be time to lean on God for what only He can do. Start praying for open doors that your husband can walk through in terms of his dream. God knows what he needs and what you need, too. And God is faithful when you commit this to Him, even if you're the only one committing your husband's dream to God.
Can you be the big dream believer alongside your husband? Can you be the big dream believer for your husband? As you encourage him to dream big, he may begin to resurrect some of those lost dreams or begin to believe that he, too, can experience the wonder of a life that is about more than his work.
Cindi McMenamin is a national speaker and the author of several books including When Women Walk Alone, Women on the Edge, and When A Woman Inspires Her Husband (from which this article is an excerpt). She and her husband, Hugh, have also co-authored the book When Couples Walk Together. For resources and free articles of encouragement to strengthen your soul or your marriage, see her website: www.StrengthForTheSoul.com.
Recently on Relationships
Have something to say about this article? Leave your comment via Facebook below!
advertise with us
Example: "Gen 1:1" "John 3" "Moses" "trust"
Advanced Search
Listen to Your Favorite Pastors