Allies Every Husband Needs
Brian Goins, Author
Thursday, December 01, 2011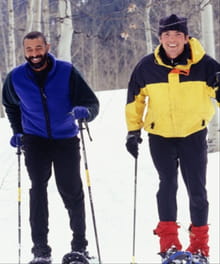 Who follows the and in your life? Who are your "and" guys? Walk through the letters of Paul and you'll discover he never went anywhere without some trusted companions:
Timothy, my fellow worker, greets you; so do Lucius and Jason and Sosipater . . . (Romans 16:21)
Paul . . . and our brother Sosthenes, to the church of God that is in Corinth . . . (1 Corinthians 1:1–2)
I rejoice at the coming of Stephanas and Fortunatus and Achaicus . . . for they refreshed my spirit. (1 Corinthians 16:17–18)
Paul . . . and Timothy our brother . . . (2 Corinthians 1:1)
Paul . . . and all the brothers who are with me . . . (Galatians 1:1–2)
So that you also may know how I am and what I am doing, Tychicus the beloved brother and faithful minister in the Lord will tell you everything. (Ephesians 6:21)
Paul and Timothy . . . to all the saints in Christ Jesus who are at Philippi. (Philippians 1:1; see also Colossians 1:1)
Aristarchus my fellow prisoner greets you, and Mark . . . and Jesus who is called Justus. . . . Ephaphras, who is one of you . . .greets you. . . . Luke the beloved physician greets you, as does Demas. (Colossians 4:10–14)
Paul, Silvanus, and Timothy, to the church of the Thessalonians . . . (1 Thessalonians 1:1; 2 Thessalonians 1:1)
When I send Artemas or Tychicus to you, do your best to come to me at Nicopolis, for I have decided to spend the winter there. (Titus 3:12)
In all but one of his thirteen letters, Paul mentions men who are in his foxhole with him. The only exception is 1 Timothy, which is addressed to one of Paul's most trusted "and" guys (see Philippians 2:19–22). Crack open your Bible and find 2 Timothy 4:9–22. Here we have Paul's last known written words. Last words can reveal a person's heart. How do Paul's last words strike you? Twice he appeals to Timothy: "Do your best to come to me soon. . . . Do your best to come before winter" (4:9, 21).
He laments losing some "and" guys to ministry (Crescens, Titus, and Tychicus), and others to betrayal (Demas, Alexander). You can feel distress flow from his pen: "Luke alone is with me" (4:11). When Paul speaks of these men, it's because he had come to rely on them. He needed them. They weren't just spectators for some crazy antics.
Quick, think about your wedding pictures. Specifically imagine the one with your groomsmen. Maybe you were sporting blue ruffled tuxedo shirts. Maybe you had one guy beside you.
Maybe you had ten. If you retook the picture today, how many of those guys would still be standing beside you? And how many would really know what's going on in your life? Granted, we live in a mobile and transient culture, so chances may be slim that you still live near your groomsmen. Even so, could you fill their spots with other men who you would say are "and" guys? We invite other men to stand with us at the wedding, but rarely to stand beside us throughout the marriage.
As men, we tend to fall into the trap of thinking that we conquered Mount Everest on our wedding day. In reality, we just hit base camp. Painting a living portrait of God's glory by loving our wives sacrificially for fifty years is Mount Everest. Can you imagine Sir Edmund Hilary reaching base camp in the Himalayas and saying to his Sherpa guide, Tenzing Norgay, "Hey, I got it from here—later." Yet we leave most of our "and" guys at the altar and head up the mountain of marriage solo.
Game Film
Solomon, a man who puts dunce caps on Mensa members, wrote, "Whoever isolates himself seeks his own desire; he breaks out against all sound judgment" (Proverbs 18:1). Solomon ought to know. He blew the wisdom lottery ticket. Early in Solomon's life, God granted him one wish. Already guaranteed King David's inheritance, Solomon asked for wisdom. God granted his wish; yet Solomon, who was sought after for his acumen by kings and queens, squandered wisdom in his own life. When we read his personal journal (the book of Ecclesiastes), we see a man who abandoned sound wisdom to chase selfish desires. In the end, his pursuits of hedonism, intellectualism, and materialism led him to meaninglessness. I can't prove it, but somehow I think Ecclesiastes
Recently on Relationships
Have something to say about this article? Leave your comment via Facebook below!
advertise with us
Example: "Gen 1:1" "John 3" "Moses" "trust"
Advanced Search
Listen to Your Favorite Pastors