Are You Married to The Grinch?
April Motl, Crosswalk.com Contributor
Monday, December 17, 2012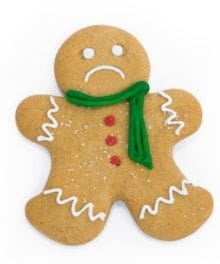 Try asking your spouse the following questions:
Is there one thing you like about Christmas/New Year's that we could make sure to plan for?
Is there one thing you really don't like about the way we observe Christmas that we could change to please you?
Is there something that worries or troubles you during this time of year that we could manage differently so it wouldn't weigh so heavy on you?
lastly, pray for your honey to have joy from the Lord, and ask God to show you how to be a blessing to him/her. "These things I [Jesus] have spoken to you so that My joy may be in you, and that your joy may be made full" (John 15:11). Pray for them to find fullness of joy in the Lord now and always.
If you are the Grinchy spouse, ask the Lord for His grace, patience and love!
Frosty & the-melt-down syndrome
Melt downs come when we are overloaded. It's like gravity! Re-prioritizing is simply a must! None of us can do everything and we need to let ourselves off the hook. Check why your doing what you're doing and make sure you're doing what is pleasing to the Lord. If you're spending precious energy and resources doing something less than His best, cut it out of your life. Lean into the wisdom of your husband and ask him to help you filter through some of the unnecessary things on your to-do list. My husband has always been most insightful and supportive in this. Proverbs 25:28 says: Like a city that is broken into and without walls is a man who has no control over his spirit. We are vulnerable, weak and poor witnesses when we lose control over our own hearts...a battle we all lose from time to time. But how much happier our families will be and how much stronger our witness if we guard our spirit from becoming too overwhelmed by exercising wisdom and prudence over our commitments.
Ask yourself:
Am I the only one who can do this task? Recently I got my arm twisted pretty good to help with a worthy Christmas cause. I knew the planning and preparation hadn't been put into it and now the sister wanted me to fill in her gaps. My husband and I had already been over what more we could fit into the schedule and I knew he didn't want me to add one more responsibility. I had to tell her no...and say it repeatedly...and I hate to say it once, let alone multiple times! But I wasn't the only one who could do the task and the sort of people who would best fit the job were the ones who needed a place to feel needed. Sometimes you have to say "no" even when it makes you feel badly because there are other responsibilities you can't say "no" to!
Does this glorify God? If you are any where close to a tearful meltdown, look over your to-do list and highlight the God glorifying tasks. Make those your top priority. Even if making gift bags for the homeless, a cookie plate with a tract for all your neighbors, and organizing the carolers for the senior citizen's home seem like good, God-honoring activities, they won't bring Him praise if your witness is all pulled apart at the seams with an upset you or and upset family.
Take care of your tank! Make sure you aren't getting so wrapped up in the season that you don't miss being healthy spiritually and physically. Fill up your tank with good things. Eat well, sleep well, read well, and pray well! Martin Luther is remembered for saying, "I have so much to do today I am going to have to spend an extra hour in prayer!"
May your celebrations this season be filled with the sweetness of the Lord's presence and joy from Him!
April Motl is a pastor's wife who serves along side her husband, Eric, at their church in Southern California. For more information about their ministry visit www.MotlMinistries.com. You can also follow their ministry on facebook, twitter and April's crosswalk blog.
Publication date: December 17, 2012
Check out our Christmas Facebook page!
Recently on Relationships
Have something to say about this article? Leave your comment via Facebook below!
advertise with us
Example: "Gen 1:1" "John 3" "Moses" "trust"
Advanced Search
Listen to Your Favorite Pastors