Enjoying Your Marriage Journey… Even When it's Difficult
Cindi and Hugh McMenamin, Co-authors of When Couples Walk Together
Tuesday, February 22, 2011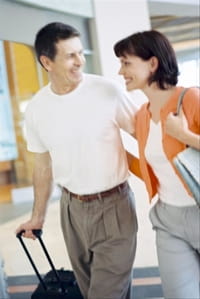 2. Receive Help Along the Way
Once you get onboard a flight, you are putting your trip – and very life – into the hands of a skilled, capable pilot. Whether you acknowledge personal trust or confidence in the Pilot or not, He is still the one getting you where you need to go. In addition, there are skilled flight attendants on your flight who know far more about flying than you do. When it comes to your marriage, your relationship is in God's hands whether you realize it or not. He's the Pilot and He knows where you're going and He is the Only One who can truly get you there.
In addition, He has strategically placed certain skilled couples or individuals in your life who may know more about marriage than you and your spouse. Take advantage of their experience. Heed their advice when it comes to what might make your trip more enjoyable. Be willing to accept help and even ask for it when you need it. They, too, want your experience to be an enjoyable and successful one. It's those kind of people in your life – your pastor, your friends, your parents, a mentor couple in your church, that couple who is evidently so "in love" after all these years -- that you need to turn to and ask for assistance. There's a reason they are on the same journey that you are taking and headed in the same direction.
3. Handle the Take-offs and Landings Carefully
The two most dangerous segments of any airline flight are the take off and the landing. And how well you get started and how well you finish are the two most crucial steps in a marriage, as well. For some of you, it might seem a little late to think about "starting well." But the beauty of marriage is that every day can be a fresh start. Every morning, as you greet your husband or wife with a hug or kiss, you can be ensuring that it's a good take-off. And every night, as you fall off to sleep together – or touch base on the phone if you're apart – you can make sure it's a good landing.
Remember, it's the choices you make every day during the sometimes monotonous moments of your marriage flight that make for the success of the journey. Enjoy the journey. You both know it's worth it.
February 22, 2011
Cindi and Hugh McMenamin have served actively in ministry together for more than 20 years – he as a senior pastor and she as a pastor's wife, national speaker and author of several books, including When Women Walk Alone and Women on the Edge. They recently co-authored When Couples Walk Together, of which this article is an excerpt. Hugh and Cindi live in Southern California and have a grown daughter, Dana. For more on their ministry or for free resources on troubleshooting your marriage connection, see www.StrengthForTheSoul.com
Recently on Relationships
Have something to say about this article? Leave your comment via Facebook below!
advertise with us
Example: "Gen 1:1" "John 3" "Moses" "trust"
Advanced Search
Listen to Your Favorite Pastors