How Death Can Bring Life to Your Marriage
Jennifer Slattery, JenniferSlatteryLivesOutLoud.com
Monday, March 31, 2014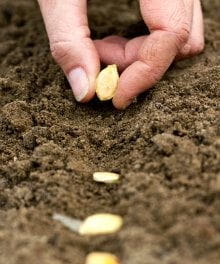 "I don't love you anymore."
I froze, staring at my husband, the man I'd pledged to love, honor, and respect, until death. In that moment, our past flashed through my mind, sweet, romantic memories alternating with what had become frequent fights.
Way too many. But it seemed this would be our last. This time, he'd said the unthinkable. And I'd driven him to it.
Could a marriage survive without love?
A visceral reaction rippled through me. I felt numb and ill at the same time. I didn't want to be there, at the end of our marriage, but I felt powerless to undo the years of garbage standing between us.
So I did the only thing I knew to do. I gave our marriage to Christ. To be honest, I did so flippantly, in a throw-my-hands-up, "I can't do this anymore!" kind of way. But regardless, God heard that prayer, saw our pain, and reached into the mess we'd created to bring healing, truth, and hope. Our journey from the D-word to miraculous intimacy began with surrender. By giving our hurts, our perceptions, and our intentions to Christ. By releasing everything to God.
Life, in our souls and our marriages, begins with death.
"Truly, truly, I say to you, unless a grain of wheat falls into the earth and dies, it remains alone; but if it dies, it bears much fruit" (John 12:24 ESV, emphasis mine).
We all long for intimacy—to have a relationship where we can progressively unveil the deepest part of who we are without fear of judgment or rejection. The problem is, we don't know how to get there. Without Christ's strength and wisdom, our attempts can actually push our mate from us. When we push for our rights rather than laying them down, our marriage becomes a competition and a battle ground rather than a place of peace and healing.
You see, mankind often approaches life and relational issues with a self-centered view which only leads to isolation. Christ asks us to take a different approach:
"Don't be selfish; don't try to impress others. Be humble, thinking of others as better than yourselves. Don't look out only for your own interests, but take an interest in others, too.
You must have the same attitude that Christ Jesus had.
Though he was God,
he did not think of equality with God
as something to cling to.
Instead, he gave up his divine privileges;
he took the humble position of a slave
and was born as a human being.
When he appeared in human form,
he humbled himself in obedience to God
and died a criminal's death on a cross" (Phil. 2:3-8, NLT, emphasis mine).
Though Creator God, Jesus gave up his privileges or rights. He humbled himself, taking on the role of a servant, and died. For us.
During that painful period of marital turmoil my husband and I faced, the last thing I wanted to do was humble myself to become a servant! I wanted God to fix our relationship! To fix my husband. But God had other plans, and a much deeper way of bringing health and healing to our broken marriage. He showed me the first step of his plan in the middle of a rather lengthy and dramatic pity-prayer.
I was tired, hurt, and frustrated. In my deceived and sin-ravished mind, I'd done everything I knew to do, and nothing appeared to be working. More than that, my husband wasn't doing what I thought he should. So I told God all about it. Not far into my list, a breath-halting visual came to mind.
Recently on Relationships
Have something to say about this article? Leave your comment via Facebook below!
advertise with us
Example: "Gen 1:1" "John 3" "Moses" "trust"
Advanced Search
Listen to Your Favorite Pastors