Make the World Go Away
Eric and April Motl, Crosswalk.com Contributors
Monday, October 08, 2012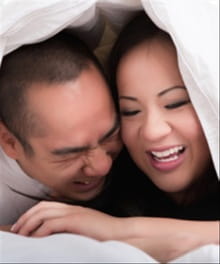 O - offer. Each day offer to do something helpful, supportive or just plain sweet for your spouse. Start the morning off by asking your husband if there is something you could do for him during the course of the day that would be supportive. Check in with your wife and see if she needs anything from the store on your way home. Offer to clean the kitchen, rub your honey's shoulders or feet or just beat him or her to one of her daily chores. Be a blessing. Stop life long enough to do at least one thing to serve each other daily.
"Serve one another in love." Galatians 5:13 NIV
P - pray together. Couples who pray together, stay together! This is perhaps the most important of things mentioned in this list to stop and do together as a couple. The stats I've heard make a startling statement about the power of praying together - couples who pray together daily (and not just grace before eating) have a divorce rate of less than 1%. I have a few guesses as to why praying together is so important.
First, praying together safeguards the heart of your marriage by keeping God at the center. Prayer is worship, thanksgiving, asking for forgiveness, and also asking God for help and blessing. When we engage in prayer together we are saying in one accord, "You are our God, not us individually or us as a couple, not our wants or wishes, not our careers or even our kids. You alone are our God!" The distractions of life pull at the throne of our hearts - prayer safeguards it.
Secondly, when we honestly come before our Father together as a couple, we get a peek into our spouse's heart. Sometimes we might misunderstand something about our spouse, or not see how invested they are in something pertaining to our marriage or an individual matter. I've thought my husband really didn't care that much about something I was working on and then heard him pray the most touching, sweet petitions of blessing over my efforts and just hearing how he saw my labors, how they mattered to him and then to hear him bring them before our Father absolutely changed my perception of how we were working together as a team.
Lastly, true, honest prayer requires a humble heart. God pours out His grace on His humble children (1 Peter 5:5). If there's anything that could work as marriage glue, I'm thinking God's grace is the ticket!
Devote yourselves to prayer, keeping alert in it with an attitude of thanksgiving. Colossians 4:2 NAS
When you were a kid, you probably remember being taught about the dangers of running if your clothes accidentally caught fire. Running might be the instinct, but it would cost you your skin if not your life. If you did find your clothes on fire, you were supposed to stop, drop and roll. In our marriages we sometimes find ourselves a little burned by life or by each other, or perhaps we are just plain "toasted" and tired. It might be your instinct to run, or turn on the T.V or hit the mall or any number of escapes. But it might cost you and yours more than you expect. No matter where we find ourselves, there's isn't a day that goes by that our marriages don't need us to STOP everything else and nurture the love, romance and delight God designed to be the beauty of marriage.
Pastor Eric and April Motl serve together at their church in Southern California. For more information about their ministry, visit www.MotlMinistries.com. You can also follow their ministry on facebook and twitter and April's crosswalk blog. Sign-up for weekly devotionals here and get a pdf. of Scripture Prayers for Couples.
Publication date: October 8, 2012
Recently on Relationships
Have something to say about this article? Leave your comment via Facebook below!
advertise with us
Example: "Gen 1:1" "John 3" "Moses" "trust"
Advanced Search
Listen to Your Favorite Pastors