Partners With Pure Hearts: Zacharias and Elizabeth
Jim and Elizabeth George, Authors
Monday, March 18, 2013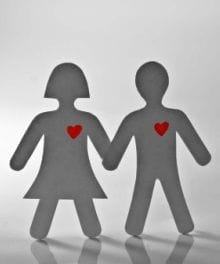 You might be wondering, How was he able to do this? And if he could do it, why can't I? What does it take? Am I up for it?
Zacharias shows you what's needed. He was devoted to obeying God's Word. The Bible says Zacharias spent his life walking "in all the commandments and ordinances of the Lord blameless" (Luke 1:6). This man didn't just carry out some of the laws of God. It says all. Today we would say Zacharias would qualify as a New Testament elder or leader, one who must be "above reproach" (1 Timothy 3:2 NASB).
So what does it take to be a man after God's own heart? It takes a working knowledge of God's Word. It takes studying that Word. And it takes a deep desire to obey that Word. God does not set impossible standards for His people. His Word says a man can be blameless, and Zacharias modeled the standard for you.
2. Marriage is for better or worse. We've already noted that Zacharias and Elizabeth experienced the social stigma of having no children, an issue for many of the couples we've looked at in this book. These couples teach us that there will always be some kind of trial that weighs a marriage down. There will always be some issue or nagging problem that can cause long-term difficulties. Just one ongoing problem can drain the life and vitality out of your marriage.
But Zacharias and Elizabeth break the mold for us. They carried the emotional burden of   infertility for as long as they had been married. And yet amazingly the Bible declares that they were both righteous before God. This couple refused to allow any adverse circumstances to affect their relationship with God and their love for each other.
How about you? Are you a Zacharias, a husband who hangs in there loving his wife, no matter what? "For better or for worse"? You probably thought your wife was practically perfect when you married her, that she would be the ideal life partner for you. So wouldn't godly love continue to see her as perfect? No matter how long you and your wife have been married, or what happens along the way, you can love her. Righteousness demands your selfless love.
3. Commit to praying for your wife. You would expect a godly husband to pray faithfully for his wife, wouldn't you? Especially if he knew there was a deep burden she was carrying day after day. Zacharias did. When the angel Gabriel spoke to Zacharias, he said, "Do not be afraid, Zacharias, for your prayer is heard; and your wife Elizabeth will bear you a son, and you shall call his name John" (Luke 1:13). It's obvious from the angel's words that Zacharias had prayed for Elizabeth to bear a child. He may have been praying for this very thing for years, and he may have been praying for it while he stood where the angel found him, right there before the altar while tending his priestly duties. Zacharias's prayers for his wife are a model for your mission as a husband.
Do you want to be a more caring and loving husband? Then your first assignment is to determine the Number One burden, challenge, or heartache your wife is dealing with, and then faithfully pray for her. Maybe you know what it is, and you just haven't been as faithful as you should be to present her difficult life-situation to God for His help. So now is definitely the time to start. And if you don't know what her problem is, ask her…and then commit to diligently praying for her regarding this matter. Imagine what it will mean to her to know that you are joining with her to carry her greatest struggle…together. And to top it off, to know that at least one person—the most important person in her life, you!—is faithfully presenting her problem to the loving, all-powerful God of the universe for His help.
Recently on Relationships
Have something to say about this article? Leave your comment via Facebook below!
advertise with us
Example: "Gen 1:1" "John 3" "Moses" "trust"
Advanced Search
Listen to Your Favorite Pastors