Pornography's Pull: Michael O'Brien's Journey toward Healing
Deborah J. Thompson, Crosswalk.com Contributing Writer
Tuesday, August 02, 2011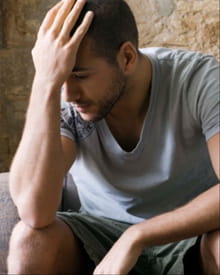 As lead singer of the popular contemporary Christian band NewSong, Michael O'Brien lived what appeared to be an ideal life. Performing night after night, he loved using his talent to bring others to Christ.
Back home, he had a wife and family he adored. But Michael was harboring a deceitful and destructive secret — one that threatened not only his job, but more importantly, his relationships with his family and with God.
On stage, Michael lost himself in the music, the message and the emotion of the crowds -- fulfilling what he considered to be God's calling for his life. After all, he had been given a beautiful singing voice and the ability to play and write music. What better way to demonstrate his faith than by using his artistry to tell others about the Lord?
But after the stage lights were darkened and the crowds left the arenas, Michael would retire to his lonely hotel room and lose himself once again — in the seductive and shadowy world of pornography.
His attraction to pornography began when he first got a glimpse of a Playboy magazine at the age of six. Like most young men, this event triggered a strong reaction that for Michael resulted in addiction to hard-core pornography by the time he was twelve.
Marital Woes
Getting married to his beloved wife Heidi didn't end the addiction. On the contrary, now he had an even bigger problem. By hiding part of himself, Michael was prevented from achieving complete and honest intimacy with his wife. But secrets have a way of bubbling to the surface and Michael was finally forced to admit everything.
"I had a great hidden sin that I had never shared with my wife and had a dream that one of my sons found out. He was crying, and I was literally watching him weep over my sins. I was so freaked out that I began to wail in my dream, not realizing that I was wailing in real life. It was like God wouldn't allow me to keep it a secret anymore. When Heidi heard me and tried to comfort me, I just broke down and immediately confessed everything."
In confessing his sin, Michael had to come face-to-face with the damage he had done not just to himself but to his wife. "It was one of the most devastating things I had ever experienced — to tell her everything. I had to come to understand that adultery is adultery. If I look at a woman and lust after her, then I have committed adultery. And we are stealing something from our wives."
The impact porn has on the family is sometimes tough for men to understand -- they can more easily compartmentalize. But for most women, pornography is a betrayal and one that shakes the very core of their own self-image and self-confidence.
Researcher Mark A. Yarhouse wrote, "Forty-two percent of surveyed adults indicated that their partner's use of pornography made them feel insecure and less attractive." ("Marriage Related Research," Christian Counseling Today, 2004, Vol. 12 No. 1). Realizing just how much his behavior hurt his wife was Michael's turning point.
Overcoming "Every Man's" Struggle
Michael is no different from many other men. Our society accepts lust as "guys being guys" — it's considered normal. The Barna Research Group reports that 38% of adults believe it is "morally acceptable"to look at pictures of nudity or explicit sexual behavior. And according to Family Safe Media:
1. Every second of every day—28,258 Internet users are viewing pornography.

2. A new pornographic video is being created in the United States every 39 minutes.

3. There are 4.2 million pornographic website making up 12% of all total websites.
Recently on Relationships
Have something to say about this article? Leave your comment via Facebook below!
advertise with us
Example: "Gen 1:1" "John 3" "Moses" "trust"
Advanced Search
Listen to Your Favorite Pastors