Want to Draw Your Husband Closer? Here's How
Cindi McMenamin, Author
Monday, March 11, 2013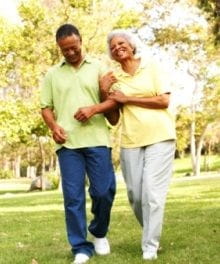 One of the best ways you can come alongside your husband and be his helper is to quietly watch and prayerfully wait upon God to know what your husband needs and how you might best respond to meet that need. Just as the Holy Spirit quietly ministers to your heart, you can quietly minister to your husband's by being his helper without him even knowing it.
"H" - Help Him Look Good...Always
Sometimes when my husband and I are conversing with another couple, he will describe something that took place, but in a way that's different than how I remember. For instance, he might leave out some details or get some of the specifics mixed up. And being a former reporter and self appointed "keeper and recorder of details" in our marriage, I often feel I have to set things straight. (Alert: What not to do!) I'm sure that must bug the heck out of him. I've grown to understand the golden rule applies here. Treat your husband as you would want to be treated. If your husband says the distance is ten miles and it's nine, let it go. Or if he states that something happened on a Wednesday and it was a Thursday, let it go. It doesn't matter. It's not relevant to the story, and your correction of your husband will sound like mothering. Revere him in the same way you want to be revered. It will go a long way with him. And that's what a cheerleader would do.
"E" - Encourage Him Personally
"Letting him know he's succeeding means letting him know he's loved," said my friend, Barbara, who works at intentionally showing her husband how much she loves him. She understands that he (like any man) needs to feel like he's winning.
"Once I left a sticky note on his bathroom mirror stating he was an awesome man," Barbara said. "Later that week in a study he was teaching, he mentioned it to the group and he choked back tears. That note flipped a little heart switch within him -- that one sentence, that one comment." Barbara's story emphasizes that you should never underestimate how your words impact your husband. One comment, or one note, can minister healing and uplift him.
Of course, encouraging your husband will take deliberate effort. Sometimes you won't be that interested in hearing about his meetings at work, latest idea, or favorite sports team. But remember, your encouragement and affirming words will inspire him more than anyone else's. You can send a short email, text a loving thought, or leave an unexpected note.
One wife of 25 years told me: "I tell my husband that I respect his hard work and I try to frequently thank him for it. He has communicated to me several times that it's important for him to hear both things – especially from me."
You can have a profound impact on your husband's life, job and personal well being, simply by providing a reaffirming voice, a positive smile, a tender touch. As Author and Counselor Elyse Fitzpatrick, says "I know it's easy to forget, but a wife, because of her nearness, is usually the most powerful human influence in her husband's life."
"E" - Elevate Him In Front of Others
"A guy wants to feel like he's his wife's hero," my husband told me. A few days later, I heard that firsthand from someone else's husband, Doug. "There's nothing better than hearing my wife tell someone else: 'My husband is the man for that job. He's the best there is.' When she says that, and really believes it, I feel 10 feet tall."
Ephesians 4:29 gives us a beautiful principle to live by -- and it especially works in marriages: "Do not let any unwholesome talk come out of your mouths, but only what is helpful for building others up according to their needs, that it may benefit those who listen." That verse implies that others have a need to be built up, and when you think about it, who doesn't? Your husband has that need, too, especially to be built up by you. Find ways to build your husband up privately and publicly.
Recently on Relationships
Have something to say about this article? Leave your comment via Facebook below!
advertise with us
Example: "Gen 1:1" "John 3" "Moses" "trust"
Advanced Search
Listen to Your Favorite Pastors