Saving Your Marriage: Are You Willing to Pay the Price?
Dr. David Hawkins, The Relationship Doctor
Friday, August 18, 2006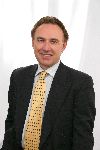 While you seek God's will, I don't believe He wants you to live in perpetual conflict. Living in daily, heated battle, is sure to erode your marriage, feelings of worth, as well as the well-being of your children. Sit down with your wife and insist on couples counseling from the best clinician you can find. Then, stick with it. Stop the conflict; stop the blame-game; stop tearing each other down; compliment one another; learn to respect one another again and maybe, some day in the future, you'll be surprised by love again.
Dear Dr. David,

Recently my husband of ten years decided to move out because he was not happy. He had threatened this before and so this time I didn't take him seriously. He has said he needed time and space to think over how he felt about me. I could not believe or did not want to believe what he was saying. Shortly after moving out he called and told me he had seen an attorney and wants a divorce.
Doctor, I cannot describe how much pain I am in. It has only been a few weeks but feels like a year. I can't sleep well, I can hardly breathe, and I wonder if life is worth living. I can not believe how quick this has all happened. He never told me he was unhappy, or that he was thinking about a divorce. I asked him if he would consider counseling, and he said 'no.' I am lost and not sure what to do. Please help.
--Heartbroken
Dear Heartbroken,
It is hard to understand how someone can walk out on a marriage without warning. I often hear that the one left behind didn't see it coming. You are trying to cope with a horrendous loss as well as try to make sense of the whole thing. It is overwhelming. Those who have had "walk-away" spouses share your pain.
There are several things for you to do immediately to cope with this monumental loss. You will need to find ways to cope as you sort through this tragedy and move on with your life.
First, seek personal counseling and possible medical evaluation. I am concerned that you aren't sleeping, and have other significant symptoms of anxiety and depression. These understandable symptoms of grief need immediate attention.
Second, seek support and wise counsel. You don't need to go through this alone. There are grief support groups, divorce support groups and hopefully friends who will walk alongside you in your trial. Wise friends will prove invaluable in the days ahead.
Third, don't rush into making long-term decisions. While you dare not believe your husband will come back tomorrow, anything is still possible. Being away from you may not be as great as he has imagined. Many times the "walk-away" spouse changes their mind, and returns to the marriage. At this point, don't count out any possibilities.
Fourth, grieve well. No matter the outcome, you will have losses. Even if he changes his mind, you will go through some struggles. It is important to simply allow yourself the space, time and opportunity to grieve. It's okay to cry, get angry, and wonder why this is happening to you.
Fifth, something has been wrong to lead him to this point. That doesn't mean you are to blame, but there will be time for reflection as to the problems leading to his decision. Seek wise counsel to help you sort through the issues, and help determine which ones belong to you.
Finally, draw near to God, and He'll draw near to you. You have some incredible promises. "for we do not have a high priest who is unable to sympathize with our weaknesses…..let us approach the throne of grace with confidence, so that we may receive mercy and find grace to help us in our time of need." (Hebrews 4: 15-16) God knows your pain, feels your pain and cares about your pain. He promises to see you through this terrible experience to a brighter day.

Do you need sound, Biblically-based advice on an issue in your marriage or family? Dr. David will address two questions from Crosswalk readers in his weekly column. Submit your question to him at TheRelationshipDoctor@gmail.com

---
David Hawkins, Pd.D., has worked with couples and families to improve the quality of their lives by resolving personal issues for the last 30 years. He is the author of over 18 books, including Love Lost: Living Beyond a Broken Marriage, Saying It So He'll Listen, and When Pleasing Others Is Hurting You. His newest book is titled When the Man in Your Life Can't Commit. Dr. Hawkins grew up in the beautiful Pacific Northwest and lives with his wife on the South Puget Sound where he enjoys sailing, biking, and skiing. He has active practices in two Washington cities.

Have something to say about this article? Leave your comment via Facebook below!
advertise with us
Example: "Gen 1:1" "John 3" "Moses" "trust"
Advanced Search
Listen to Your Favorite Pastors