The Big IF: Facing Infertility with Faith
April Motl, Crosswalk.com Contributor
Saturday, February 25, 2012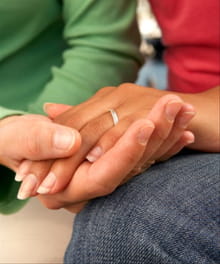 IF. Stands for infertility. A big ugly word that hangs over the hearts of more than seven million people. It's also a complicated word. It's a word that lots of people think is an easy fix when it's not. It's a turn-your-world-on-it's-head word. A word that simultaneously brings silence and shouting to deep places in one's soul. A word that touches things inside you that you didn't want to be touched.
And it's not the end of the story.
As my husband and I have traveled this road of waiting to have a baby, of doctor's appointments, prayer, seeking, hoping, reading and studying, charting temperatures and unmentionables, and buying an insane amount of pregnancy tests, we've learned things about God, about each other, about ourselves and about the power of empty places.
God does amazing things in and through empty places.
• The bottom of an empty well was the beginning of Joseph's destiny (Genesis 37:24).
• A poverty stricken widow with children's mouths to fill was at the end of her rope and found hope when God sent provision through Elisha and some empty jars. (2 Kings 4:3-7).
• The best of all the "empty" things in Scripture is the empty tomb (Luke 24:12). The empty tomb means that Christ could not be held by the power of death and that He was indeed the sacrifice to end all sacrifices so that we might have forgiveness from our sins (Hebrews 10:10).
Now we, "know that God paid a ransom to save you from the empty life you inherited from your ancestors. And the ransom he paid was not mere gold or silver. He paid for you with the precious lifeblood of Christ, the sinless, spotless Lamb of God" 1 Peter 1:18-19 NLT. Empty things no longer have a hold on our new life in Christ!
Through the wrestling with emotions, laboring in prayer and the intensity of this journey, we've sought to lift up this empty place in our lives to let God do with it what He wanted.
Whether your wait for a baby feels like an eternity or has just begun, the issue of infertility or struggling to conceive reaches far and wide across our identities, relationships with friends and family, our marriage and even our relationship with God. And while the process hurts beyond description, if we let Him, God can do a beautiful work through all of it.
Consider the following stories from Scripture:
Ruth had been widowed at a young age. Her devotion to God led her to follow her also widowed mother-in-law back to the homeland of Israel. Ruth would always be a Moabite to the Jews - a foreigner. She couldn't let herself dream of a husband, let alone ever having a baby. She would do well just to be able to work hard enough to feed herself and Naomi. But God had a plan. He blessed her with a good man, a son and a place in the lineage of Christ. His hand filled her emptiness and her life reflected His goodness.
A barren couple went about life as usual. The chores. The work. The wishing for a baby couldn't be silenced, but what could they do? Manoah and his wife had no choice but to plug along and make do. Then one day an angel of the Lord appeared to Manoah's wife and promised her a baby. Not just any baby, but one with a special destiny. He would rescue Israel from her enemies. He would be a mighty warrior and judge. He would be Samson. And this couple would raise him in an unusual way to prepare him for all that God had in store for him.
Scripture records Elkanah and Hannah, Zacharias and Elizabeth, Abraham and Sarah, Isaac and Rebekah as also being couples that God prepared for parenting a special child by giving them a long season of barrenness.
Have something to say about this article? Leave your comment via Facebook below!
advertise with us
Example: "Gen 1:1" "John 3" "Moses" "trust"
Advanced Search
Listen to Your Favorite Pastors