The Death of Marriage?
S. Michael Craven, Contributing Writer
Tuesday, October 24, 2006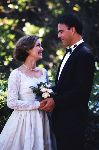 Unwin demonstrated conclusively that no civilized society can maintain its productive status and social order once it accepts the extension of sexual opportunities beyond the bounds of marriage for a period of no more than three generations. There is not one single example in all of human history where this social fact was NOT observed. In every such instance, those societies all suffered their demise.
American society stands at a critical crossroads. We will either continue down the path of sexual anarchy, redefining marriage and the natural family to accommodate our selfish sexual desires and in so doing destroy our civilization or we will return to a true understanding of human sexuality, marriage and parenting as revealed in Scripture and confirmed in nature.
This is an area where the Church needs to assert itself in culture by "taking every thought captive, making it obedient to Christ" because the prevailing "thoughts" about sexual ethics and the family are reeking havoc individually, socially and spiritually.
The family is one of only three earthly institutions created by God for the organization of human activity: the Church, the state, and the family. Therefore it is imperative that the Church both live out and defend this vital institution, an institution central to social order and the transmission of values, including the Gospel, from one generation to the next.
---
For a more thorough apologetic on this subject I would encourage you to read my booklet,
Why is Marriage Important? - The reasonable defense of marriage
. You can view the complete text online 
Here
. This 16-page booklet discusses the true meaning of marriage as the cornerstone of moral and social order. In it, I offer a thoughtful rationale for debating same-sex marriage and defending traditional marriage.
You can also order Marriage booklets for yourself or in discounted quantitites for your church or group by calling 513-521-6227.
---
Copyright S. Michael Craven 2006
Comment on this article here
Subscribe to the Truth in Culture Weekly for free here
Subscribe to the free Weekly podcast here
S. Michael Craven is the Founding Director of the Center for Christ & Culture, a ministry of the National Coalition for the Protection of Children & Families. The Center for Christ & Culture is dedicated to renewal within the Church and works to equip Christians with an intelligent and thoroughly Christian approach to matters of culture in order to recapture and demonstrate the relevance of Christianity to all of life. For more information on the Center for Christ & Culture, additional resources and other works by S. Michael Craven visit: www.battlefortruth.org
Michael lives in the Dallas area with his wife Carol and their three children.
Have something to say about this article? Leave your comment via Facebook below!
advertise with us
Example: "Gen 1:1" "John 3" "Moses" "trust"
Advanced Search
Listen to Your Favorite Pastors