A Mother Counts Her Blessings
Sharon Jaynes, Proverbs 31 Ministries
Monday, November 29, 2004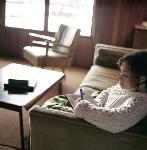 Every mother finds the growth and development of her child amazing. That's because it truly is. In the twinkling of an eye, in the flash of a moonbeam, a tiny baby becomes a man or woman, before we even know what happened. To show you just how quickly the time passes, I'm going to let you read a bit of my personal mail. This is a letter I wrote to my son, Steven, on the day I took him to get his driver's permit. I hope as you flip through the picture book of my memory, you'll see the days of mothering behind you and those yet to come, as a wonder and a blessing.
Dear Steven:
I crept into your room today as the sun was peeking over the horizon. A single ray of light reaches through the blinds and illuminates you angelic face like a lone actor on a stage. Two tiny fists frame your olive face as you snuggle peacefully under you yellow blanket.
A small head, capped with black busy hair. Long Bambi-like eye lashes. Perfectly formed cherub lips. A red forceps mark on you forehead. Knees curled and tucked under your tummy.
A mound of love that just three days before kicked my ribs and moved inside my tummy, now sleeps in a crib and moves my heart.
Yellow gingham bumper pads framed this picture of sweetness, tranquility and love. I drink in the scent of baby powder, fresh wipes, and lotion. The room overflows with toys: a Noah's Ark soft sculpted toy with ten bulging pockets carrying animals two-by-two, a bunny shaped rattle, a tinkling music box. Stuffed animals with bright satin bows huddled in a corner. A white wicker rocker beckons.
I stroked you head and watched you breath, finding my chest in sync with yours. Three days old. My precious gift from God. What journeys await our family of three?
I crept into your room today and thanked God for the wonder of you.
_________________________________________________________

I crept into your room today before my little man awoke. In just a few minutes you'd be calling out in your two year old voice for Mommy and Daddy to get you out of your now too small crib for a little snuggle time before dad is off to work.
The black hair has been replaced with golden corn silk capping your precious head. Long thick eyelashes, now dubbed as "angel wings," rest on chubby cheeks.
The yellow blanket that once kept you warm now keeps you secure as you clutch it tightly to your side. Somehow your thumb has found its way to your mouth and I hear the sound of gentle sucking.
Big Bird and Ernie wait patiently for their little friend to stir. A train parked in the corner. A stick horse tethered to the doorknob. Rubber balls and wooden blocks rest in a basket. Pop up books, Richard Scarry, Lowly Worm, Busy People, Things that Go -- all familiar friends crowded on the bookshelf. Wooden puzzles, plastic trucks, cardboard tubes for jousting lie just where you dropped them. The well-worn wicker rocker that has become my favorite spot in the house.
I stroke you blond head and watch your gentle breathing, still amazed that so much love could be found in one small package.
I crept into your room today and thanked God for the wonder of you.

_______________________________________________________

I crept into your room today on this your first day of school. In Superman pajamas, hugging a Teddy bear, you dreamed of new friends and adventure.
A new shiny red lunch box sits on the dresser. Stiff new jeans and a crisply striped knit shirt await you. A blue backpack stuffed with fresh crayons, markers, and wide-ruled notebook paper hangs from the doorknob.
Have something to say about this article? Leave your comment via Facebook below!
advertise with us
Example: "Gen 1:1" "John 3" "Moses" "trust"
Advanced Search
Listen to Your Favorite Pastors