Adopted For Life
Russell D. Moore
Thursday, July 16, 2009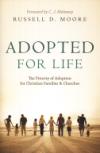 EDITOR'S NOTE: The following is an excerpt from
Adopted For Life
by Russell D. Moore (Crossway).
Chapter One
Adoption, Jesus, and You
Why You Should Read This Book, Especially If You Don't Want to
MY SONS HAVE A CERTAIN LOOK in their eyes when they are conspiring to do something wrong. They have another, similar look when they are trying to read my face to see if I think what they're doing is something wrong. It was this second look I could see buzzing across both of their faces as they walked up the steps to the old pulpit.
My boys were at a chapel service on the campus where I serve to train pastors for Christian ministry; they were there to hear me preach. They know better than to misbehave in church, and this seemed kind of like a church service. They also knew that I had warned them they could only sit up on the front row if they were still and quiet, with nothing distracting going on down there while I was preaching. But a friend of mine had other plans for them that day.
"Benjamin and Timothy," he had whispered only a few minutes earlier to my sons, "will you help me introduce your daddy before he preaches?" I fidgeted with my uncomfortable over-the-ear microphone while I watched these two strong, vibrant, little five-year-old boys walk up the platform steps. They were peering at me the whole time to make sure they weren't breaking the rules that we'd agreed upon. I watched them stand behind the pulpit and listened to them answer questions from my colleague. "Who is going to preach today?" my friend asked. "Daddy," Benjamin responded. "And what's he going to preach about?" he continued. Timothy answered quickly, leaning into the microphone, "Jesus."
For a couple of seconds, my mind flashed back to the first time I ever saw these two boys. They were lying in excrement and vomit, covered in heat blisters and flies, in an orphanage somewhere in a little mining community in Russia. Maria and I had applied to adopt and had gone on the first of two trips, not knowing who, if anyone, we would find waiting for us. Immediately upon landing in the former Soviet Union, I wondered if we had made the worst mistake of our lives.
Sitting in a foreign airport, with the smell of European perfume, human sweat, and cigarette smoke wafting all around us, Maria and I recommitted to God that we would trust him and that we would adopt whomever he directed us to, regardless of what medical or emotional problems they may have. A Russian judge told us she had two "gray-eyed" boys picked out for us, both of whom had been abandoned by their mothers to a hospital in the little village about an hour from where we were staying.
Sure enough, the orphanage authorities, through our translators, cataloged a terrifying list of medical problems, including fetal alcohol syndrome for one, if not both, of the boys. We looked at each other, as if to say, "This is what the Lord has for us, so here we go." The nurse led us up some stairs, down a dank hallway, and into a tiny room with two beds. I can still see the younger of the two, now Timothy, rocking up and down against the bars of his crib, grinning widely. The older, now Benjamin, was more reserved, stroking my five o'clock shadow with his hand and seeing (I came to realize) a man most probably for the very first time in his life. Both the boys had hair matted down on their heads, and one of them had crossed eyes. Both of them moved slowly and rigidly, almost like stop-motion clay animated characters from the Christmas television specials of our 1970s childhoods. And we loved them both, at an intuitive and almost primal level, from the very first second.
Have something to say about this article? Leave your comment via Facebook below!
advertise with us
Example: "Gen 1:1" "John 3" "Moses" "trust"
Advanced Search
Listen to Your Favorite Pastors