Adopted For Life
Russell D. Moore
Thursday, July 16, 2009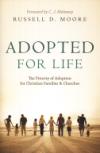 I don't know why, in the mystery of God's plan, you were led to pick up this book. But I know this: you have a stake in the adoption issue, even if you never adopt a child. There's a war going on around you—and perhaps within you—and adoption is one crucial arena of that war. With that in mind, there are perhaps some changes to be made in our lives. For some of us, I hope this book changes the makeup of our households. For some of us, I hope it helps change our monthly bank account balances. For all of us, I hope it changes something of the way we say "brother" and "sister" in our pews next Sunday and the way we cry out "Father" on our knees tonight.
This book is less about a dogmatic set of assertions (although there are some of those) than it is a conversation with you about what I have seen and what I've been taught through adoption and what I hope we can all learn together.
And as we start this conversation together, I can't help but think again of the image of my sons standing behind that pulpit. I'll admit I was proud of them that day, as I am every day. I don't idealize them. They are sinners, like all of us. They deserve to be in hell forever, like all of us. And sometimes they are selfish, whining brats—just like their dad.
That day in that chapel, though, I managed to forget about my fatherly pride for a few minutes—and certainly to forget about adoption and orphanages and the events that led to our becoming parents. I just stood up and preached. When I finished, prayed, and walked down the steps from the pulpit, one of my sons, Benjamin, stepped out to the front of the chapel to shake my hand. Where did this little man come from, who stood with such dignity to tell his daddy he loved him and was proud of him? That probably didn't seem to anyone in the room like an act of warfare—but, oh, how it was.
As I knelt down and hugged him, I realized how small and shallow and needy I had been when, only a few years ago, I had refused to go with my wife to an adoption seminar. I'd been "too busy" to go. "My life's a whirlwind right now, you know," I'd said to her at the time. But, really, the idea of adoption left me cold. Now, I was pro-adoption, of course, as a social and political matter (hadn't I been saying that in my pro-life writings and speeches for years?). But why couldn't we wait and exhaust all the ethically appropriate reproductive technologies before thinking about adoption? I told my wife, "I don't mind adopting a few years down the road, but I want my first child to be mine." I can still hear my voice saying those words—and it sounds so small and pitiable and hellish now.
How could I have known what it was like to hold this little boy in my arms, and his brother with him, knit together with them by a fatherhood that surpassed my genetic code? How could I have read and preached and lectured on Ephesians and Galatians and Romans, how could I have lectured through classroom notes on the doctrine of adoption, without ever seeing this? I wasn't evil—or, at least, I wasn't any more evil on this score than any other redeemed sinner— but I was as theologically and spiritually vacuous as the television "prosperity gospel" preachers I made fun of with my theologically sophisticated friends.
Some of you are in the place where I was several years ago. Some of you are where I am now. Some of you are where I will be, by God's grace, when I pronounce one of my sons husband to a godly woman or when I hug one of them as he receives his high-school diploma or, best of all, when I baptize one of them as my brother in Christ.
This book isn't, first of all, a theological treatise on adoption in the abstract, although I hope it helps some of us to see how adoption pictures something true about our God and his ways. This book isn't primarily a book about the practical joys and challenges of adopting children, although I hope it helps many more moms and dads to know firsthand something of why I am wiping away tears as I type this right now. Ultimately, this book isn't really about adoption at all. It's just what my son Timothy probably would tell you it is about, if you asked him. It's about Jesus.
Adopted for Life
Copyright 2009 by Russell D. Moore
Published by Crossway Books, a publishing ministry of Good News Publishers
1300 Crescent Street Wheaton, Illinois 60187
All rights reserved. No part of this publication may be reproduced, stored in a retrieval system or transmitted in any form by any means, electronic, mechanical, photocopy, recording or otherwise, without the prior permission of the publisher, except as provided for by USA copyright law.
Have something to say about this article? Leave your comment via Facebook below!
advertise with us
Example: "Gen 1:1" "John 3" "Moses" "trust"
Advanced Search
Listen to Your Favorite Pastors