Are We Raising a Nation of Wimps?
Albert Mohler, President, Southern Baptist Theological Seminary
Monday, April 11, 2005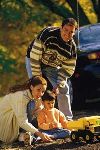 To be honest, I look at the magazine Psychology Today as something of a trade journal for the therapeutic culture. The magazine spins out seemingly endless cover stories on how to be happy, self-actualized, and successful, but its worldview is light years from classical Bible-based Christianity. Nevertheless, this magazine is really on to something with its recent article, "A Nation of Wimps," written by Hara Estroff Marano. This article is must reading for every parent.
Marano begins her article with a portrait of cushioned childhood. "Maybe it's the cyclist in the park, trim under his sleek metallic blue helmet, cruising along the dirt path . . . at three miles an hour. On his tricycle." From there, Marano moves to cite the "all-rubber-cushioned surface where kids use to skin their knees," and the fact that the kids aren't even allowed to play alone. Their mommies and daddies are playing with them, making sure that the little darlings don't experience even the slightest scrape, scratch, or scare. "Few take it half-easy on the perimeter benches, as parents used to do," Marano explains, "letting the kids figure things out for themselves."
To the contrary, today's parents are now spending a great deal of their time doing little more than protecting their children from life. Marano describes this as "the wholly sanitized childhood, without skinned knees or the occasional C in history." The result of all this? Our kids are growing up to be pampered wimps who are incapable of assuming adult responsibility and have no idea how to handle the routine challenges of life.
David Elkind, a prominent child psychologist, counters, "Kids need to feel badly sometimes. We learn through experience and we learn through bad experiences. Through failure we learn how to cope."
That seems to be a foreign concept to many of today's parents. Coddled by a generation of Baby Boomers, today's parents have turned into hyper-protectors. Kids are not allowed to play, because they might get hurt. In today's highly competitive environment, kids have to excel at everything, even if parents have to actually do the work or negotiate an assisted success. The routine play of childhood--even the pointless chatter, nonsense, and aimless play of children--is now considered wasted time or worse. "Messing up" is simply out of style, Marano explains. "Although error and experimentation are the true mothers of success, parents are taking pains to remove failure from the equation."
"Whether we want to or not, we're on our way to creating a nation of wimps," Marano warns. She fast-forwards to college and university campuses, where "the fragility factor" is now most clearly evident. As she explains, "It's where intellectual and developmental tracks converge as the emotional training wheels come off. By all accounts, psychological distress is rampant on college campuses."
This statement is easily verified by observing the reports issued by academic institutions. Psychological distress--sometimes evident in the mild form of anxiety and, in other cases, in binge drinking, self-mutilation, and even suicide--are now major concerns of college administrators.
As Steven Hyman, Harvard University's provost and former director of the National Institute of Mental Health lamented, the problem "is interfering with the core mission of the university."
What is the source of this problem? Observers are zeroing in on parental pampering as the most critical factor behind this pattern of student "disconnect." Smothered by parental attention and decision-making during childhood and adolescence, these young people arrive on the college campus without the ability to make their own decisions, live with their choices, learn from their experiences, and grapple with the issues of adult life.
But the academic issues do not show up only on college campuses. Today's kids must be successful, at least in the view of their insistent parents. Even in pre-kindergarten programs, parents now show up with a list of special demands, insisting that their child must be treated with special care. Inevitably, these are often transformed into diagnoses of learning disabilities that will require special instructional accommodations. If this trend is not reversed, virtually all students will be diagnosed with some form of learning disability and the entire classroom experience will break down.
Have something to say about this article? Leave your comment via Facebook below!
advertise with us
Example: "Gen 1:1" "John 3" "Moses" "trust"
Advanced Search
Listen to Your Favorite Pastors