Authentic Fatherhood: Following in God's Footsteps
Rick Johnson, Author, Better Dads, Stronger Sons
Monday, August 28, 2006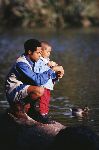 I went from being unhappy, stressed, uncomfortable around people and in many situations, confused, hopeless, scared, and miserable with life to having a wife who not only loves me but respects and admires me! She actually tells me she admires me. How cool is that? That has improved every aspect of our relationship—and I do mean every aspect.
When it comes to marriage, my only model growing up was a failure. I've now been married twenty-four years. That's not possible except through the grace of God.
I went from having almost no fathering skills (again, I was programmed to fail) to having kids who respect me and believe that I have at least a little wisdom—on even-numbered days of the month, anyhow.
God took me out of my virtual isolation and gave me rich, full friendships with dozens of men. I even have men regularly seeking my guidance. I'm amazed at the way people often go out of their way to help me. I believe these relationships are God's blessings for my commitment to living with authenticity.
My family and I now have hope instead of despair. My wife and kids are following in my footsteps, and I expect them to pass on a positive legacy for generations to come.
Remember how I said in my introduction to this book that God did not answer my prayers to stop the fighting and screaming and hitting—then? Well, he has answered those prayers now. None of that takes place in my home—though only through God's grace, because I had such a bad model set for me.
And one of the most gratifying blessings God has bestowed on me? Sometimes men and women come up to me after they've attended my seminars and share tearfully that God spoke through me and helped change their lives and the lives of their families for the better. I can't tell you what that feels like, except that it has to be a tiny glimpse of heaven. It fills my heart to bursting.
I enjoy all of these blessings because I overcame my initial fear and reluctance to try something that made me uncomfortable. I swallowed hard and chose to become a better husband and father and a godly man—a man who seeks God's strength to live a life of significance, helping others by sharing God's grace in a nonthreatening manner. God used my pitiful efforts for great good. He has since used my mustard seed of faith to accomplish more than I will probably ever know.
Be a bold, authentic dad, and step out in faith. God is anxious to use you and your son mightily.
Questions for Reflection and Discussion
1. In what ways has God endowed you with power, as a man and a father, to impact other people's lives?
2. In what ways are you fulfilling your role as a spiritual mentor to your wife and children? In what areas do you feel you could improve? If you have enough courage to hear the answer, discuss this question with your wife.
3. Think about what your father was like. Talk to your son about your relationship with your father when you were growing up. If you did not have a father, tell your son about the things you missed by not having a dad.
4. Talk to your son about the responsibilities of fathers. Talk about the rewards that come when a father fulfills his God-given role and the consequences when he doesn't.

Excerpted from Better Dads, Stronger Sons by Rick Johnson. To read Part 2 of this 4-part series on Christian Fathering: The Power of Fathers.

---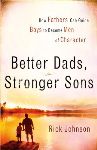 Rick Johnson is the founder of Better Dads, a fathering skills program designed to equip men to be more engaged in the lives of their children. Rick develops and delivers father training workshops for businesses, churches, schools, and other organizations across the Northwest. He previously authored That's My Son: How Moms Can Influence Boys to Become Men of Character. Rick, his wife Suzanne, and their two children live in Gresham, Oregon.

Used with permission of Revell, a division of Baker Publishing Group.



Have something to say about this article? Leave your comment via Facebook below!
advertise with us
Example: "Gen 1:1" "John 3" "Moses" "trust"
Advanced Search
Listen to Your Favorite Pastors