Beyond Spina Bifida: Samuel & Zachary are Answers to Prayer
J. Gerald Harris, Baptist Press
Monday, January 30, 2006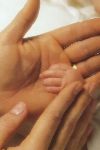 Alex and Julie Armas are the kind of people that the Apostle Paul would call "steadfast and unmovable."
They've had some formidable challenges hurled at them, but in spite of the heartache and pain, they have taken the challenges with faith and grace.
In an October 2003 article in Georgia Baptists' Christian Index newsjournal, the Armases were hailed for their decision to proceed with a pregnancy when the child Julie was carrying had been diagnosed with spina bifida. The doctors indicated that fetal surgery did not seem to be a viable option and that such surgery would cost hundreds of thousands of dollars. Julie remembers that they stopped just short of suggesting abortion.
Nevertheless, Julie and little Samuel underwent in utero surgery at Vanderbilt University Hospital on Aug. 19, 1999. She was 21 weeks pregnant. Samuel weighed less than one pound.
Freelance photographer Michael Clancy was in the operating room to take pictures for USA Today and took the photo of Samuel's hand as he grasped the finger of the surgeon. After taking that much-publicized photo, Clancy, who had been a pro-choice advocate, has become a champion of pro-life causes.
Samuel was born by C-section 15 weeks after the surgery and although he has had multiple surgeries since, he has avoided many of the more serious problems of spina bifida. Billy Godwin, pastor of the Armasas' Atlanta-area home church, Ephesus Baptist in Villa Rica, reports, "Samuel is bright, extremely active and very gregarious."
During the U.S. Senate debate on partial-birth abortion, Alex and Julie were invited to Washington to testify before Kansas Sen. Sam Brownback's subcommittee, and after the bill passed, President Bush invited them to attend the actual signing ceremony at the White House.
In November 2003, the Armases were blessed with a second son, Ethan, who is as healthy and happy as a child can be. Then in late 2004, the Armases learned they were expecting a third child. It was somewhat of a surprise, but they were excited about the prospect of welcoming another child into their family.
Julie had an ultrasound in February 2005 which seemed to indicate that this child also had spina bifida. An emergency visit to Vanderbilt to see the doctor who performed Samuel's surgery confirmed the diagnosis. The news was devastating, but once again Alex and Julie began to draw from the peace and strength of the Lord as they faced the reality of having another spina bifida child.
The couple decided on Zachary as the name for their third child. The physicians determined that Zachary's lesion level was at L4, the 4th lumbar vertebrae, which was very similar to the lesion level at the time of Samuel's in utero surgery five years earlier.
Since Alex and Julie had experienced positive results with Samuel's pre-natal surgery, they hoped the same kind of surgery would be available to Zachary but discovered that the National Institutes of Health is conducting a clinical trial (MOMS: Management of Myelomeningocele Study) on fetal surgery, which has placed the NIH in control of all fetal surgeries; none can be performed outside of the study.
"To ensure a fair and unbiased population and process is used, the study randomizes eligible candidates into either an experimental group (pre-natal) or a control group (post-natal)," Alex recounted. "For the pre-natal random selection, fetal surgery is performed at one of three designated hospitals. For the post-natal random selections, surgery is performed immediately after birth by the same doctors and at the same hospital."
Have something to say about this article? Leave your comment via Facebook below!
advertise with us
Example: "Gen 1:1" "John 3" "Moses" "trust"
Advanced Search
Listen to Your Favorite Pastors