Big Oak Ranch Gives Neglected Children a Chance
Deborah J. Thompson, Crosswalk.com Contributing Writer
Wednesday, September 21, 2011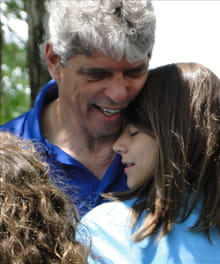 "Please except me to the Girls Ranch… Please give me a chance. Everywhere I've been they din't want me or they were mean to me so I understand if you don't want me because nobody else does….My dad did bad stuff to me and my brother that I'm not proud about--drugs…through us up against the wall…I need a permante home because I've been bounced back and forth 10X from house to house…you gave my brother a chance…I think I would love the BIG Aok Ranch…" (Excerpts from an actual letter written by a little girl to the Big Oak Ranch).
John Croyle carefully pulled the original notebook sheet out of his pocket and slowly unfolded it as he handed it over at the start of our interview. He carries it as a reminder of why he does what he does. He carries it so that he won't forget that there is always another child out there who needs help. He carries it as a tangible illustration to others of the difference that their support is making. And he carries it to remember why his crucial decision to turn down a potentially lucrative NFL career, ignore the initial teasing of his teammates at the University of Alabama and follow the dream that God placed in his heart, has changed the lives of more than 1,800 children over the past 36 years at the Big Oak Ranch.
The Big Oak Ranch is a home for "orphaned, neglected, abused and homeless"children — all given a chance by John Croyle, who says that he has "never looked back."
At the University of Alabama, John was a vital member of the team that won the first of three National Championships that decade — a team that included such NFL notables as John Hannah, Richard Todd, Wilbur Jackson and Sylvester Croom. But John Croyle was not destined for the NFL. God had much bigger and more important plans for the man that legendary Coach Bear Bryant described: "When you start talking about John you need first to consider things a lot deeper than size and talent....He's quite a man."
He is quite a man. And he is married to quite a woman. Tee Croyle is the quiet strength and support behind John's desire to provide, "a Christian home for children needing a chance."
"God has called each of us to our roles, and we are both comfortable in those roles," she says. And it is easy to see what outstanding complements they are to one another — different, but equally important and effective.
Tee is mom to daughter Reagan, a former basketball player and Homecoming Queen at the University of Alabama who serves as the Childcare Team Director at Big Oak; and son Brodie, a record-setting quarterback at the University of Alabama, now playing for the Kansas City Chiefs.
Tee's an accomplished teacher to the kids at Westbrooke Christian School owned by Big Oak, with several students who have made perfect scores on their SAT tests. Like her husband, Tee is smart, dedicated, has a warm smile, gracious personality and encouraging spirit. John credits their successful partnership to marrying "my best friend."
Keeping Faith
One would need to come home to their best friend after seeing what John and Tee Croyle have seen through the years -- children raped, beaten, neglected and ignored. Children dropped off at the gate before the staff could even learn their name. One child found huddled and afraid in an empty railroad car. Another one's legs dipped into a vat of boiling oil by their mother.
But these unimaginable horrors are only the beginning of the story of Big Oak. Moving beyond the past to embrace the future is the real message. As Tee told me, "It's impossible to do this without faith. These kids have taught us to love…and they dream of a family."
John Croyle's philosophy of faith, parenting, marriage and life are simple principles. When asked how he stays focused on overcoming struggles and following what God has called him to do, he has some sage advice for "keeping your compass on True North." He likens the journey to driving on an interstate:
Have something to say about this article? Leave your comment via Facebook below!
advertise with us
Example: "Gen 1:1" "John 3" "Moses" "trust"
Advanced Search
Listen to Your Favorite Pastors