Big Oak Ranch Gives Neglected Children a Chance
Deborah J. Thompson, Crosswalk.com Contributing Writer
Wednesday, September 21, 2011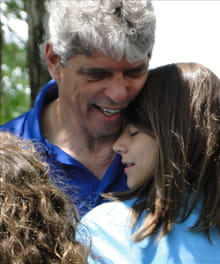 The oldest former resident of the ranch is now 55 years old and a grandfather. Big Oak family members are high school and college graduates, military personnel, and alumni in "just about any profession you can name." This fall there will be 23 Big Oak kids in college. Most residents refer to their house parents as "Mom and Dad" and come "home" to Big Oak for holidays and celebrations long after they leave the ranch.
They are the "fruits" that motivated John and Tee Croyle to keep going even when they weren't sure where the next penny would come from. And through it all, Tee told me they learned "when you are doing what God has called you to do, then God provides."
Often His provision came in the form of other modern-day miracles. But part of faith is responding when God calls, and He often calls in unexpected ways.
In 1985, John and Tee crossed paths with a 12-year-old girl named Shelley who would forever change their lives and the lives of many more children to come. By this time, John had been rescuing boys for several years and was well known in the family courts around Gadsden, AL.
Shelley had been taken away from her parents for horrific abuse that included not only beatings, but also the trauma and betrayal of being held down by her mother while her father raped her. When John learned that a judge was considering sending Shelley back to such a deplorable situation, he pleaded with him to allow Shelley to come and live with Tee and their family. He told the judge that if he sent her back, Shelley would be dead within 6 months.
But for reasons unknown, John's heartfelt request was denied. She was sent back to her parents and as John told me, "I was wrong -- her father beat her to death only 6 weeks later."
John and Tee promised God that with His help, they would find a way to prevent this happening again and in 1988, the Big Oak Girl's Ranch opened its doors and its heart to girls who need safety and love. The long and winding road leading to the ranch is appropriately named "Shelley Drive."
John says that everything on his desk could be cleared away except for 2 things. One is an article about parents who were convicted of chaining and starving to death their 13-year-old son. Like the letter he carries in his pocket from the little girl wanting "a chance," it never lets him forget the importance of the work of Big Oak. The other is a piece of paper with these three questions that keep him firmly on "the right road":
1. What has God called you to do?
2. Are you doing it?
3. What is the fruit of question 1 and 2?
At a recent annual Appreciation Day, I was fortunate to see for myself the fruit of what God called John to do. Walking among the children living at the ranch, watching them cling to him like a modern-day "Pied-Piper" as Tee so appropriately put it, seeing the light in their eyes, the smiles on their faces and the hearing the delight in their voices as they showed me around their homes, proved that the unspeakable horrors they have experienced have been replaced by unrestrained joy.
In one house alone, I met two artists, a musician and an athlete. All accomplished, intelligent, smiling, polite young men, eager to share their hopes, dreams and plans for a future. A future now attainable because they were given that chance. And in case you were wondering, the little girl who wrote that letter also got her chance. The miracles of Big Oak continue for the next generation of children.
For more information about Big Oak Ranch, please visit: BigOak.org
Deborah J. Thompson is a writer, speaker, artist and Stephen Minister. Her articles are published by Crosswalk.com and "The Fish" family of Christian radio station websites around the country. She shares "Reflections" on Life, Relationships and Family on her website, www.inspiredreflections.info. And she is working on her first book, Your Life, Your Choice--5 steps to Peace. Join her on Twitter/InspireReflectand Facebook/DailyInspiredReflections.
Have something to say about this article? Leave your comment via Facebook below!
advertise with us
Example: "Gen 1:1" "John 3" "Moses" "trust"
Advanced Search
Listen to Your Favorite Pastors