Break Free from a Cycle of Mother-Daughter Conflict
Nicole Whitacre, Contributing Writer
Thursday, January 19, 2006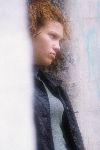 I don't understand what the big deal is! I huffed to myself, only half listening to my mom's lecture as I prepared my defense. Haven't I heard this speech somewhere before? Oh yeah, it was yesterday. I didn't clean up my room then either. According to Mom, this has been happening a lot lately. I think pattern is the word she's looking for. It's a word she uses often.
Mom was not pleased with me. Being the discerning girl I was, I could tell. I'd really tested her patience this time. But I was angry too. I couldn't understand why she was making such a fuss. Why does she insist that everything has to be done in a peaceful and orderly way, exactly as she likes it? Why does she have to make these silly rules? After all, I have a busy life. And I'm not an orderly kind of person. All I want is for her to understand and give me a little space. Can't she let me live the way I want to some of the time?
We parted ways.
It wasn't long before Mom came back to the (lovely peach) room my sisters and I shared. "Honey," she began, "I was very wrong to get angry and be impatient with you. There's no excuse for my sin, and I'm very sorry. Will you please forgive me?"
Our quarrels often ended this way. If I had a dollar for every time my mom was the first to admit her sin and ask my forgiveness, I'd . . . well, I'd do a lot of things. Mom's humility melted my proud heart. I felt sorry for how selfish I had been. "I was wrong too, Mom, for not serving you and the rest of the family," I said. "Will you forgive me for disobeying and leaving such a mess this morning?"
She forgave me freely, but I knew we had more to talk about. Mom always turned our conflicts into opportunities for both of us to examine our hearts. After analyzing her own motives and inviting me to evaluate her actions, she would help me to look at my heart. So she asked me questions such as: "Why is it that you leave everything so disorganized?" and "Have you stopped to consider how your harried morning routine inconveniences the family?" and "What do you think you want more than to glorify God and serve others in this situation?"
Clearly the problem was my prideful independence and selfishness. I loved to do things my own way. I wanted to leave my room a mess, without someone telling me to clean it up. I didn't care how it affected my family. It was these wrong desires that sparked the conflict with my mom.
Perhaps you've had an argument with your mom or daughter today. Maybe you had one yesterday and the day before that. Maybe you fight all the time. Or it could be that you clash only once in a while, but when you do, boy, is it a blow-up! Or possibly your relationship is marked by constant tension and unspoken bitterness. It's like the elephant in the living room that no one talks about. Or you may be a mother-daughter pair who only experience relatively minor and infrequent clashes. But no matter your conflict variation, you feel lost in a jungle of disagreements.
Sinful mothers and sinful daughters living together in a sinful world means that conflict is inevitable. You may have noticed that many of our conflicts occur right within our own families, and consequently we sin against the people we love the most. Theologian John Stott points out that because of the Fall, family relationships are tainted by sin: "For the family life which God created at the beginning and pronounced to be 'good' was spoiled by human rebellion and selfishness. Relationships fell apart. Society was fractured."1
But there is good news. It doesn't have to stay this way. By God's amazing grace, we can resolve any argument, regardless of how severe it has become or how long it has lasted. James 4 shows us a clear path out of the jungle of conflict. To guide us through these verses, I'm going to borrow my dad's sermon notes. Besides being a great dad, he's been a pastor for many years; so he has a lot more wisdom than I do. His message — "Cravings and Conflict" — has completely revolutionized the way I think about and work through conflict.2 (Thanks, Dad!)
Have something to say about this article? Leave your comment via Facebook below!
advertise with us
Example: "Gen 1:1" "John 3" "Moses" "trust"
Advanced Search
Listen to Your Favorite Pastors