Build Your Home on Holy Ground
Whitney Hopler, Live It Editor
Thursday, December 23, 2004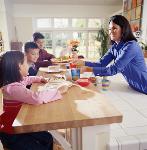 Our society too often discounts the importance of managing a household and raising children. But the hard work of cooking, cleaning, and caring for little ones is much more than just a set of necessary chores. It's a holy trust and a way to help change the world for the better.
That's because God's work in human lives begins at home, and the quality of a home significantly shapes the kind of people who emerge from it. If you're a mom, God has a great purpose for your work and longs to help you fulfill your sacred calling. He wants you to recognize that your home is holy ground where you can build something important with His help.
Here's how you can build the kind of home God wants you to have:
• Be intentional about your work. Know that you are called to create and maintain a home environment that reflects God's love, hope, righteousness, mercy, and peace. Be willing to spend the time and energy necessary to plan and do your work at home well. Realize that it's an important ministry. Strive to bless all who live in your home and all who visit your home by creating a warm and welcoming place. Think of your home as an incarnation center where God's attributes can be seen in our material world.
• Open your home and heart to God. Let God know that you want to use your home to serve and glorify Him. Say "yes" to God no matter what He asks you to do - in all aspects of your life. Ask the Holy Spirit to help you trust in God's wisdom. Be willing to sacrifice your time, plans, and even your dreams if they conflict with His will for you. Know that, if He sees you're open to His work in your life, He will use you powerfully. Don't worry about your own limitations; rely on His power instead.
• Catch a vision. Ask God to give you a clear picture of what holy, God-centered home looks like. Visualize what kind of home life you would like to have. Consider such topics as devotion to Christ, marriage, children, friends, pets, your schedule, hospitality, prayer, peace, shared meals, stimulating conversation, learning together, financial security, celebrations, professional achievements, laughter, comfort, and décor. Then reflect on what your current home situation is like, and write down a description of it. Don't get discouraged if there's a big difference between your vision and your current reality! Instead, think and pray about practical steps you could take to make improvements.
• Remember your ultimate home. Understand that earth is just your temporary home; your permanent dwelling place will be heaven. Model your own home after what you know of heaven.

Make it a place of beauty that delights the senses through visually appealing colors and arrangements, pleasing scents, etc. Make it a comforting place where there are no safety hazards, the temperature is appropriate, and each person's dignity and feelings are protected. Make it a gathering place where people can enjoy being together and communing with God. Make it an orderly place where clutter and emergencies don't detract from what is truly important. Make it a place of truth where people can honestly seek God, learn, and discuss issues. Make it a hospitable place where guests are always welcome. Make it a place where God is present and rules.

Consider placing a visual symbol like a plaque with a Bible verse or a cross in your home to remind you of your household's commitment to follow God.
• Let others help you. Use the many resources God offers you for help in building your home: guidance from the Bible and the Holy Spirit; support from your church; mentorship from an older woman; a sisterly friendship with a peer; advice from a pastor or counselor; help from a maid or babysitter, and inspiration from seminars, books, magazines, radio, television, or videos.
Have something to say about this article? Leave your comment via Facebook below!
advertise with us
Example: "Gen 1:1" "John 3" "Moses" "trust"
Advanced Search
Listen to Your Favorite Pastors