Build Your Home on Holy Ground
Whitney Hopler, Live It Editor
Thursday, December 23, 2004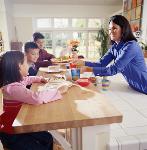 • Don't define yourself by just your role. Understand that you are not just a wife, mother, homemaker, breadwinner, or hostess, as important as those roles are. Know that when God looks at you, He sees you as His child and loves you because of who you are rather than what you do. Know also that God looks ahead to see the person who you are becoming. Strive to be faithful and content with your life as it is now, but always be looking ahead to the future. Write down your dreams and goals. Pray about them. Think about what practical steps you can take to learn more and pursue the dreams and goals you have.
• Create a peaceful home. Set out to make your home a haven from a stressful, chaotic world. Figure out what's currently disrupting the peace in your home and plan how you can change that. Perhaps bad attitudes like complaining, nagging, bickering, or rebellion need to go. Perhaps there's too much noise in your house, or too much conflict.

Ask God to develop a quiet heart and gentle spirit within you. Learn how to speak softly, kindly and respectfully to those who share your home. Cultivate peaceful relationships with them. Be sensitive to their needs. Genuinely listen to them. Be willing to forgive.

Replace a frantic pace with an unhurried one so you can relax. Clean your house of clutter and dirt that causes you stress. Create soothing pockets of silence and extra space in your home. Spend time with Jesus, the Prince of Peace, regularly in prayer and by reading the Bible.
• Use your time wisely. Ask God to help you clarify what your priorities should be. Then build your schedule around those priorities. Pursue only those activities that are truly important to you and drop the rest.

Clear out items from your home that you don't truly need or want so you won't waste time maintaining them. For example, consider whether or not you really have time to use all the electronic gadgets you have. Filter out spam on your computer and toss out junk mail without reading it. Expect interruptions and plan to work around them. Build rest into your schedule, including observing a weekly Sabbath day.
• Create an orderly home. Identify your organizational problems. Prepare to tackle them by planning a strategy (big projects should be broken down into small, scheduled chunks) and buying materials like storage bins and filing cabinets. Delegate tasks to others in your household who are willing to help. Designate every item to be put away properly, given away, or thrown away. Once your house is organized, develop a routine to maintain order.
• Create a loving home. Affirm, encourage, and support the people who share your home. Express your love to them in ways that make them feel valued. Observe traditions together and strive to create special memories.
• Make your home a place of growth. Give the people who live in your home an atmosphere where they can grow into the mature, loving, godly people God wants them to be. Give them the freedom to try new things, the grace they need to learn from mistakes, the space to be creative, the discipline to order their lives, and the courage to reach out to others. Think and pray about what kind of people you'd like your home to produce, then keep that vision in mind. Consider areas of spiritual, mental, emotional, and physical health for everyone in your household, including yourself.
• Cultivate your influence on your children. Model healthy attitudes and good character for your children at home. Let them see you being truthful, faithful, and grateful. When you need help, show them how you turn to Jesus for forgiveness, guidance, and grace. Teach and train your children according to biblical principles, and be patient with them as they learn. Make your children a high priority in your life. Commit to being physically, mentally, and emotionally present and engaged with them as often as you possibly can. Respect and celebrate each child's uniqueness. Give them the tools and opportunities they need to develop their talents. Protect and discipline them. Enlist help from friends, family members, teachers, coaches, and others as you raise your children. Have fun with your kids and enjoy them.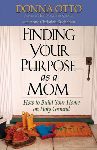 Adapted from Finding Your Purpose as a Mom: How to Build Your Home on Holy Ground, copyright 2004 by Donna Otto with Anne Christian Buchanan. Published by Harvest House Publishers, Eugene, Or., www.harvesthousepublishers.com.
Donna Otto founded and heads a ministry to stay-at-home mothers called Homemakers by Choice that ministers weekly to hundreds of mothers with young children. She has written seven books, and has spoken to thousands of women over the years, primarily on organizational and mentoring subjects. Donna, who lives in Arizona with her husband David, serves on the board of Phoenix Seminary. They have one grown daughter, Anissa.
Have something to say about this article? Leave your comment via Facebook below!
advertise with us
Example: "Gen 1:1" "John 3" "Moses" "trust"
Advanced Search
Listen to Your Favorite Pastors