Choosing God's Way: What Dads Today Can Learn From Joseph, 3
Eva Marie Everson, Author & Speaker
Monday, March 17, 2003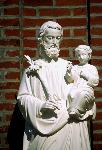 Sometimes we do what is right, but with selfish reasons. Other times we do what is right, in an effort to pay for our sins. We do not often do what is right because it is right. Such rare behavior shines like stars at midnight. ~~ Jeff, a dad
Brian stared at his wife in disbelief. They'd only been married a couple of years, he was months from finishing school, and he'd made careful plans for the rest of their lives. As soon as he graduated, he'd decided, they would take the money he'd been secretly saving and treat the two of them to an exotic island getaway. After they returned home, he'd begin his part-time job and head back to school to get his Master's degree. The job-which would take up about 30 hours a week-was fairly decent paying. Perhaps, given another year, they could move into a starter home. Maybe even buy that Sea-Doo he'd been eyeing over at the water sports store. Give it another couple of years and they'd be ready to start a family.
But, now...with this piece of news from his wife...the pieces of the puzzle weren't falling into place as he'd planned them.
"Pregnant," she had said. "With twins," she had added. And then, as though that weren't enough, the final, "The doctor says I can't work standing on my feet anymore...." Did Brian hear the word "complications?"
It took him awhile for it all to sink in. He didn't want to hurt his wife with the disappointment he felt at hearing the news. But, later that evening, when he went to the Lord in prayer, he confessed: "This wasn't what I wanted...but apparently, it is what you want. Help me to accept this, Lord...and I promise I'll be the best father I know how."
Biblical Background
We can't know for certain the kind of life Joseph had before we meet him in the Gospel story, but we can be certain he wasn't sitting around twiddling his thumbs. He was most likely a very busy man; after all, he was a carpenter (or a stone mason)- the kind of work that does not lend itself to leisurely lunches and golf on Wednesdays. This was physically stressful work, often conducted from early in the morning till late in the day, on the outskirts of town. 
He was also betrothed to a young girl named Mary. Perhaps, as he worked, he thought of her; of the life they would have together once he brought her home to be his wife. Maybe he thought about the children they would have. Sons to work along side him...daughters to bless their home, to be taught by their mother, and who would one day grow into young women and become the wives of a fellow Nazarene?
That would all come in time, of course. No need to rush things...first he must get his home ready for the day he would exchange vows with Mary. Then...after a season....
What We Do Know
Have something to say about this article? Leave your comment via Facebook below!
advertise with us
Example: "Gen 1:1" "John 3" "Moses" "trust"
Advanced Search
Listen to Your Favorite Pastors