Courting Danger Online: Teenagers and the Internet
R. Albert Mohler, Jr., President, The Southern Baptist Theological Seminary
Wednesday, February 08, 2006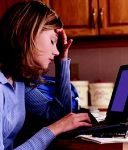 This debate tells us a great deal about how American culture has shifted authority from parents to teenagers. How can a concerned and loving parent not follow their teenagers' online activities? No doubt, it's a dangerous world out there. Furthermore, Christian parents should be very suspicious about any claims to "privacy" on the part of their teenage children.
The emergence of teenage blogs has created problems, not only for parents, but for high schools and colleges. Officials at North Carolina State University brought charges against several underage students when a residential advisor found on their Facebook blogs a picture of them drinking. "There is no reasonable expectation of privacy," said Paul Cousins, director of the office of student conduct at the university. "So I have no concerns about any university becoming aware of an issue via Facebook and then following up on those concerns."
In some cases, online blogging has led to real danger. Taylor Behl, a seventeen-year-old freshman at Virginia Commonwealth University was murdered this fall. Though officials are not certain whether her online activities had any direct relation to her death, Behl had used MySpace and similar sites and had posted intimate details and personal information. Pam Lepley, a spokeswoman for the university, told reporter Alorie Gilbert of News.com, "In the course of the investigation it became very apparent to university officials just how much information she had put out about herself online. She and thousands of other people her age put out these Web pages and may not know how vulnerable it could make them." Lepley further explained, "In their own minds, they're sitting in their dorm room or at home, and they have a sense of privacy--and they really don't have it at all."
Furthermore, parents are often shocked by what they find at their kids' blogs. As one report summarizes: "Teens complain about parents and homework, using language that will make Tony Soprano blush. They share daily dramas, post songs from the latest bands, display pictures of themselves, sometimes wearing next to nothing or taking bong hits. They write angst-ridden poetry, detail supposed sexual exploits and complain about each other or offer support. But mostly they simply relay the details of their everyday lives."
Some school officials have discovered further grounds for concern. Vauhini Vara of The Wall Street Journal reports that school principals now monitor many blogs. In this report, Vara told of one sixteen-year-old girl at Paramus High School in Paramus, New Jersey who was suspended after teasing a classmate during school and implying he was homosexual. At home, even during her suspension, she posted some comments on her blog, including a post in which she heaped further scorn upon the boy. The school considered these comments to constitute harassing behavior, and the girl was suspended for three more days. The girl's parents have complained to school officials. "It's inappropriate that they're telling my daughter how to behave when she's not at school," said her father. "It was such a violation of the First Amendment." Once again, this development indicates how the pattern of authority has been radically changed. Many parents now fight for their children's "right" to harass fellow students, to criticize school officials, and to make virtually unrestricted comments online.
Christian parents must see the fallacy in this argument and the danger in forfeiting their parental responsibility. This generation of teenagers desperately needs parents who will reassert their authority and fulfill their responsibility to protect, monitor, and supervise their children.
Responsible Christian parents will establish clear boundaries and rules for their childrens' use of the Internet. There should be absolutely no expectation of privacy when it comes to what their teenagers are doing and writing on the Internet. The stakes are simply too high.
Have something to say about this article? Leave your comment via Facebook below!
advertise with us
Example: "Gen 1:1" "John 3" "Moses" "trust"
Advanced Search
Listen to Your Favorite Pastors