Daughters, Honor Your Mothers
Nicole Whitacre, Contributing Writer
Monday, July 17, 2006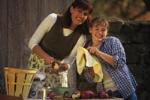 To this day I feel sorrow over how Mom must have felt when she uncovered the truth of my haughty attitude. No mother should ever have to experience disrespect from her daughter—least of all, my mother. But even more grievous is the fact that my dishonor was ultimately against God.
So what did it look like to begin honoring my mom? What does honor look like for all of us? Puritan pastor and author Matthew Henry wrote that honor is "an inward esteem . . . outwardly expressed upon all occasions."2 Honor begins in our hearts and our thoughts. It means that we cherish, esteem, and look up to the woman God has chosen to be our mom. Then we follow through on that attitude by showing respect through our words and our obedience. The scope of honor for our mothers, as the Bible describes it, is far reaching. It includes:
• Obedience while under her authority (Eph. 6:1; Col. 3:20).

• Dependence upon her wisdom and counsel (Prov. 6:20-23).

• Eagerness to receive her training and instruction, especially in the language of biblical womanhood (Titus 2:4-5).

• Dedication to serving her and meeting her practical needs (1 Tim. 5:4).

• Respect and esteem for her godly example (Prov. 31:28-31; Eph. 6:1).

• Pursuit of a God-glorifying lifestyle that brings her joy (Prov. 10:1; 15:20; 23:24-25).

• Encouragement and gratefulness for her sacrifice (Prov. 31:28-31).
(For those of you reading this whose mom is not a Christian or is an immature believer, honor will look different in your case. Though there are many things you can apply from this list, you are not to follow your mom into sin, condone her wrong behavior, or respect her ungodly lifestyle.)
Still not getting the picture of what it means to honor your mom? Well, try this. Stop and think of a person you really admire or wish you could be like. It's probably the first person that popped into your head. Now what kind of thoughts do you have about this individual? Are they admiring thoughts? What kinds of things do you say to him or her (if you get a chance)? Are they flattering and encouraging, sweet and kind? And how do you act toward this person? Do you go out of your way to be around this person, to do things for him or her, to get him or her to like you? If so, you are honoring this individual. We all honor someone, don't we? Well, God commands that we treat our moms this way. And if your mom is already the person you admire—way to go! Honoring your mom is one way to honor God Himself.
There are no "buts" to this command. We shouldn't think we are the exception to this rule. The Bible doesn't say, "Oh, by the way, if your mom isn't cool, or if you don't agree with her decisions, you can disregard this command." The requirement to honor our mothers applies to everyone, all the time, and for the rest of our lives.
God demands nothing less than perfect honor toward our moms. However, maybe you, like me, are guilty of dishonoring your mom, and ultimately God. And you, like me, realize you deserve the awful fate assigned to the dishonoring daughter. It is good for us to begin to comprehend the seriousness of our sin. However, we must not despair: God has provided a remedy for every girl who has dishonored her mother. He sent His Son, Jesus, to earth. Jesus lived a perfect life, including flawless honor of His mother. Yet He received the punishment from God for our dishonoring so that we could be forgiven. If we repent and trust in Him, we can be cleansed from our sin. And we can also have hope that, by His power at work in us, we can become young women who honor their moms.
Have something to say about this article? Leave your comment via Facebook below!
advertise with us
Example: "Gen 1:1" "John 3" "Moses" "trust"
Advanced Search
Listen to Your Favorite Pastors