Deliberate Childlessness: Moral Rebellion With a New Face
Albert Mohler, President, Southern Baptist Theological Seminary
Monday, June 28, 2004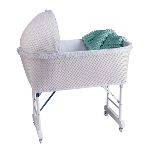 According to The Atlanta Journal-Constitution, Joe and Deb Schum of Atlanta aren't worried about baby proofing their house or buying a car seat.  As a matter of fact, the couple doesn't ever intend to have children and they are proud of their childlessness.  According to the newspaper's report, "the Schums are part of a growing number of couples across the country for whom kids don't factor in the marriage equation." 
The paper also pointed to the fact that the nation's birthrate fell last year to an historic low of 66.9 births per 1,000 women age 15-44.  That represents a decline of 43% since just 1960.  "Many childless couples," according to the report, "revel in their decision, despite badgering from baffled mothers and friends.  Others struggle with the choice before keeping the house kid-free." 
The Schums just don't want kids to get in the way of their lifestyle.  They enjoy cruising to the Georgia mountains on their matching Harley-Davidson motorcycles.  They love their gourmet kitchen, outfitted with the very latest stainless steel appliances and trendy countertops.  Deb Schum explains, "if we had kids, we would need a table where the kids could do homework."  Clearly, children aren't a part of their interior design plan.
This pattern of childlessness has caught the attention of others in the media.  The left-wing internet site Salon.com actually published a series of articles entitled, "To Breed or Not to Breed."  This series of articles featured couples and individuals who have decided that children are not a part of their chosen lifestyle. 
One woman wrote that parenthood just isn't a part of her plan, regardless of cultural expectations to the contrary.  Motherhood just doesn't fit her self-image or her schedule.  "I compete in triathlons; my husband practices martial arts; we both have fulfilling careers; we travel the world ... we enjoy family and friends; we have a fun, intimate relationship."  For others, the bottom line is simply financial.  One woman asked:  "What would the return be on the investment? Are there any laws that would require my children to pay for my nursing home when I am old?  Are they going to be a sufficient hedge against poverty and loneliness?"  A return on investment? 
Some who have chosen to be childless have actually formed organizations in order to band together.  The group "No Kidding" was formed in Atlanta four years ago as a social outlet for couples choosing to have no children.  Traci Swartz, an occupational therapist in her thirties, joined "No Kidding" with her husband Jeremy, a 32-year-old computer analyst.  "When you don't have children, you are not involved in any activities like a lot of other people, like soccer and ballet," said Traci. 
She explained that "No Kidding" members are more likely to talk about pets, travel, or other common interests.  Kids rarely come up as a topic of conversation.  "People think we sit around and talk about how we hate kids, but we almost never mention kids," Traci explained.  No wonder.
Have something to say about this article? Leave your comment via Facebook below!
advertise with us
Example: "Gen 1:1" "John 3" "Moses" "trust"
Advanced Search
Listen to Your Favorite Pastors