Did I Really Just Say That? Facing Bad Mommy Days
Lysa TerKeurst, Author, The Bathtub is Overflowing But I Feel Drained
Friday, January 12, 2007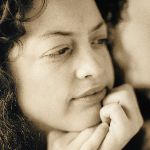 I plopped down on my bed and stared at the ceiling. Did I just tell my kids that the Holy Spirit would be tucking them into bed? What kind of mother does that? A tired, exhausted, empty one, I answered myself. One who had not turned her emotions over to the Lord today. One who had not taken time before rushing into her day to ask the Lord to be her portion and to give her His perspective throughout the day. One who hadn't taken time to pray.
I pushed the book I'd been waiting to read all afternoon aside and reached for my Bible.
Because of the LORD'S great love we are not consumed, for his compassions never fail. They are new every morning; great is your faithfulness. I say to myself, "The LORD is my portion; therefore I will wait for him" (Lamentations 3:22-24, emphasis added).

My flesh and my heart may fail, but God is the strength of my heart and my portion forever (Psalm 73:26, emphasis added).
Even Jesus, the Savior of the world, had to take time each day to ask for His portion. When He taught us to pray in Matthew 6, He taught us to ask for our portion. Matthew 6:11 says, "Give us today our daily bread."
Do you remember when the children of Israel were wandering in the desert waiting to be delivered to the Promise Land? God rained down manna, small flakes of food from heaven, just enough for each day. He didn't allow them to gather storehouses full of manna because He wanted to be their daily portion. He wanted them to come to Him each day and recognize their need for Him. He delighted in them asking, and He delighted in providing for them every time they asked. That's how they grew from seeing God as a religious being to having a real relationship with Him.
That's how we grow as well. The reality is that we will all have days where our attitude is not what it should be. We all fall short. Now, maybe you've never fallen as short as me, the woman who relied on the Holy Spirit to tuck her kids into bed! But there are areas in which you will have to rely on God and His provision.
As moms it is so easy to let our emotions run wild and operate based on how we feel. If we feel happy, we can be patient. But if our stress level rises, it is easy to let our patience slip and snap at those we love most. If we feel organized, we can be stable. But if things start getting misplaced and disheveled, it is easy to feel angry and fly off the handle. This roller coaster of emotions is hard on mom and family.
I've found the only stabilizing force when I feel my emotions running away is the Lord. Praying these "portion" Scriptures and asking God to be my portion is a daily discipline. I can't just will myself to be in a good mood and act godly; I have to rely on God's strength, power, control, and provision.
Spend some time today asking yourself if you are in control of your emotions or letting your emotions control you. Whatever your shortcoming, God is waiting for you to ask for His portion every day and He will provide. When we allow Him to reign in us, His portion will rain on us.
Refresh My Soul
Read Psalm 4.
This is a psalm of hope. David writes of God's protection, peace, and provision. He knows that God will keep him safe and grant him what he needs. His trust is in God.
I especially like verse 4, when David talks about sitting on our beds and being silent. How I wish I could have read that verse before I said what I said! My kids have for sure heard me say some things when I should have kept silent, as this verse recommends. Are there times in your life when you wish you had stayed silent? Are there things you regret saying to your kids or your husband?
Have something to say about this article? Leave your comment via Facebook below!
advertise with us
Example: "Gen 1:1" "John 3" "Moses" "trust"
Advanced Search
Listen to Your Favorite Pastors