Discipline: Does Your Child Need More or Less?
Kendra Smiley, Author, Aaron's Way
Monday, October 02, 2006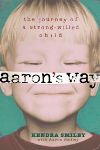 A child who is disciplined will develop better self-discipline, an attribute that is vital to mature, adult behavior. It is largely the responsibility of you, the parent, to see that discipline is carried out. Don't be a pushover parent.
Teach me to do your will, for you are my God; may your good Spirit lead me on level ground. Psalm 143:10.
Finally, and perhaps most important, a child who has learned to obey his parents is more likely to choose to obey God.

"The wise in heart accept commands, but a chattering fool comes to ruin" (Proverbs 10:9)

"Hear, O Israel, and be careful to obey so that it may go well with you and that you may increase greatly in a land flowing with milk and honey, just as the LORD, the God of your fathers, promised you" (Deuteronomy 6:3).

"But Samuel replied: 'Does the LORD delight in burnt offerings and sacrifices as much as in obeying the voice of the LORD? To obey is better than sacrifice, and to heed is better than the fat of rams'" (1 Samuel 15:22).

"This is love for God: to obey his commands" (1 John 5:3).

Undoubtedly, choosing to obey God is a wise and wonderful choice. To reinforce that to your strong-willed child may take extensive time and energy. But that time and energy is well spent. Remember, the assumption that discipline does not work is untrue. The actuality is that the strong-willed child has an increased need for loving discipline. However, don't expect your strong-willed child to appreciate the discipline you administer, at least not when he is young and currently in the situation. Hopefully when he is an adult he will see the benefit of discipline. He may even choose to express his thanks to you. But in the early years don't look for it, expect it, or be disappointed if appreciation is not one of your child's responses to discipline. Remember, he is only a child.


---
This article was excerpted from
Aaron's Way: The Journey of a Strong-Willed Child
(
Moody Publishers
) by Kendra Smiley with Aaron Smiley. Copyright © 2005. Used with permission. All rights reserved.
Kendra Smiley
is a popular conference speaker, and hosts a daily radio show called Live Life Intentionally. She is a regular contributor to Christian
Parenting
Today and Hearts at Home magazines. Kendra is the author of five books, including
High Wire Mom
, and
Empowering Choices
. She and her husband live on their famiy farm in Illinois.
Have something to say about this article? Leave your comment via Facebook below!
advertise with us
Example: "Gen 1:1" "John 3" "Moses" "trust"
Advanced Search
Listen to Your Favorite Pastors