Do You Love Your Kids Too Much?
Whitney Hopler, Live It Editor
Monday, October 30, 2006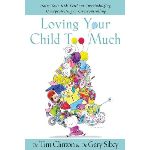 Stop overcontrolling them. Make sure you're spending some time on a regular basis just enjoying and playing with your children – instead of constantly lecturing, critiquing, or pushing them. Don't make all the decisions for your kids' activities; give them opportunities to explore their own interests. Ask God to help you relax around your children. Allow your kids to express their thoughts and feelings – even when they disagree with you – in respectful ways. Teach them how to effectively negotiate and work together to solve problems. Respect your kids' privacy and don't pry unnecessarily into their conversations, mail, phone calls, or belongings.

Never use guilt to manipulate your children. Don't withhold love from them when they're disobedient; let them know that you will always love them, even when they're not doing what you want. Abandon unreasonable expectations for your kids and focus on what's reasonable for them to attain. Make sure your kids know their own likes and dislikes. Respect your children's choices, even though you don't always agree with them. Give your kids the freedom to learn who they are, and that they are responsible for their own decisions. Let them know that they, with God's blessing, are in control of their own destinies. Show them that with God's help, they can deal with difficult decisions. Affirm that your kids' value is based on who they are – not what they do.

Examine your motives when you interact with your children and guard against relating to them as projects. Let your kids express their own opinions and tastes, and complete their own developmental milestones (such as first day of school or first time driving) without you hovering or giving them constant advice. Ask God to help you genuinely understand and accept your children – especially when their temperaments are different from your own. Surrender your own agenda for your kids and help each of them achieve their full potential to become the people God wants them to be.
Give your kids the same respect you want them to give you. Rather than treating your children poorly when they misbehave, provide discipline and consequences in calm and rational ways that respect their dignity and model the positive attitude you want them to have. Ask God to help you live the kind of life that provides a great example to your kids of faith in action. Ask Him to empower you to instruct them in biblical wisdom, and to give them firm structure and clear boundaries without sacrificing great love.
Spend as much time with them as possible. Understand that what your children need and want the most isn't any type of toy or other material item – it's you. Make time with your kids a top priority in your schedule. Know that it's quantity time (not quality time) that leads to the unexpected, memorable moments that will strengthen your bond. Be there with them as often as possible to share life together, and be assured that they will treasure time with you far more than anything else you can give them.
Build your kids' character. Help your children develop these virtues: A Christ-centered attitude, moral discernment, a sense of humor, patience, the ability to endure pain, personal and spiritual growth, the ability to forgive and accept forgiveness, problem-solving skills, an ability to be slow to anger, resilience, communication skills, respect for others, compassion, responsibility, courage, self-confidence, empathy, self-control, gratitude, self-discipline, integrity, self-respect, kindness, spiritual discernment, a love for life and learning, and tolerance.
Focus on relationship rather than rules. Realize that, while rules are important, they must be based on a positive relationship in order to be effective. Understand that, without a positive relationship with you, your kids will rebel against even the best rules. Build close relationships with each of your children by: showing empathy for their thoughts and feelings, assertively yet respectfully sharing your perspectives – focusing on specific facts rather than emotion, treating them with respect, expressing warmth toward them, and making adjustments in your parenting style to respond to each of your kids' unique needs.
Have something to say about this article? Leave your comment via Facebook below!
advertise with us
Example: "Gen 1:1" "John 3" "Moses" "trust"
Advanced Search
Listen to Your Favorite Pastors