Everyday Ways to Teach Your Kids about God
Whitney Hopler, Live It Editor
Wednesday, November 02, 2005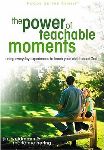 Match the right truth to the right moment. Ask yourself: "Does this truth match our current mood?", "Is it appropriate for my child's age level and interests?", "Can we cover this topic in a few sentences, or do I need a Bible handy for further study?, "Will my child be mature enough for this truth, or will he or she choke on it", and "Is there a better truth to go with this moment?" Use your relationship radar to discern whether or not the moment is right. If you're not sure, err on the side of silence to avoid forcing a lesson on them when they won't appreciate it.
Soak in God's Word. Understand that if you spend time regularly reading and studying the Bible, you will soak in its truths. Then, when you want to teach your kids about God, biblical truths will flow much more easily out of you than if you hadn't been immersing yourself in Scripture.
Be willing to be vulnerable. Understand that your kids need to hear about your failures as well as your successes, your doubts as well as your triumphs of faith, your times of loneliness as well as your joy, etc. Don't set up a false image to which your children can't relate or measure up. Openly and honestly share your thoughts and feelings with them to give them confidence that you can relate to them and their situations. Whenever you hurt them through your mistakes, own up to your sins and ask them to forgive you. Let them hear you pray for God's forgiveness and grace to help you in your daily life.
Let your kids benefit from lessons you learned the hard way. Realize that there may be times when your kids – especially teens – can learn valuable lessons from hearing about your own past sins or painful experiences. Be willing to share your stories with discretion, if you believe they can benefit your kids. Be sure to deal with the issues involved and find spiritual and emotional peace before discussing them, however, so you don't just vent and do more harm than good. Give your kids the chance to ask question about what you tell them, and be completely honest in your responses. Don't just dwell on the negative; let them know the positive ways God worked in your life to bring healing for your mistakes and wounds.
Remember what life was like for you when you were your kids' ages. Enhance your ability to offer your children empathy and emotional support by recalling your own thoughts and feelings when you were their ages. Use that information to help you reach out in love to your kids.
Use milestone moments as markers of spiritual maturity. Help your kids know where they've been and where they're going on their spiritual journeys by celebrating milestones like baptism, communion, preparing for adolescence, sexual purity, and the rite of passage into adulthood. Hold a ceremony to mark the event. Use symbols (such as a ring to symbolize trust in your child's pledge to remain sexually pure until marriage) to concretely commemorate each milestone. Give your kids a special gift. Plan a party. Let your kids know that you applaud their spiritual progress.

______________________________________________
Adapted from The Power of Teachable Moments: Using Everyday Experiences to Teach Your Child About God by Jim Weidmann and Marianne Hering, copyright 2004 by Focus on the Family. A Focus on the Family book published by Tyndale House Publishers, Wheaton, Ill., www.tyndale.com.
Jim Weidmann serves Focus on the Family as executive director of Heritage Builders Ministry, the parent ministry of The Family Night Guy. He is heard weekly on more than 300 radio stations on the Family Night Guy radio program. Jim is also vice chairman of the National Day of Prayer Task Force. With Joe White, he is the co-author of The Spiritual Mentoring of Teens, another Focus on the Family Heritage Builders resource. As a popular author and speaker, Jim enjoys showing parents how to teach their children biblical principles. He lives in Colorado with Janet, his wife of 20 years, and their four children.
Marianne Hering lives in Colorado with her husband, daughter, and twin sons. She is the former editor of Focus on the Family Clubhouse Magazine and has written hundreds of magazine articles and numerous books, including Focus on the Family Clubhouse Activity Book.
Have something to say about this article? Leave your comment via Facebook below!
advertise with us
Example: "Gen 1:1" "John 3" "Moses" "trust"
Advanced Search
Listen to Your Favorite Pastors