Facing the Challenges of Single Parenting
Robert D. Jones, M.Div., D.Min., New Growth Press
Monday, March 26, 2012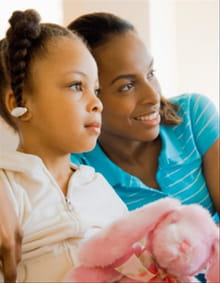 Single parenting is a very hard job, so you certainly need clear guidance. And the Bible does speak to you from cover to cover. "Good," you reply. "I've been looking for some help. Give me some verses aimed at single parents that tell us what to do with our kids."
Sorry. The Bible doesn't always answer questions in the way we ask them, or give us truth in the categories or format we want. There are no "ten commandments" in Scripture that exclusively address single parents.
What should we make of the absence of biblical commands specifically for single parents? Let's begin with a more fundamental question: Were there any single parents in the Old and New Testament faith communities? Surely, yes. Then why were they excluded from biblical counsel on how to parent? The answer: They were not excluded. When God spoke to his people, he spoke to married parents and single parents without distinction. In other words, the general commands given to all parents pertain to you. Single parents are not a special subcategory.
What are God's directives to parents? Christian authors summarize biblical parenting duties in various ways, but most include the following:
• Provide physical and emotional care
• Provide verbal instruction
• Provide physical discipline
• Model dependency on Christ that grows into his likeness
• Pray for and with your children
You will not be able to give as much time, energy, skill, and creativity to these five tasks as two parents could. But God does not expect double effort from you. You cannot do, and must not try to do, the work of two adults. But what you should do, in dependence on God, should include these five ministries toward your kids.
Further, while you may receive help from others—your parents, friends, church family, and so forth—you remain the God-appointed parent of your children. Do not concede to others this authority, responsibility, and opportunity. There is no biblical doctrine of "grandmother's rights." In God's providence you, not your mother, are parenting the children God has entrusted to you.
Pay Attention to Your Children's Response to Your Single Parenthood
It is wise to monitor how single parenting affects not just you, but your children as well. In whatever way you became a single parent, in the same way your children have lost a parent. You are not the only one needing help to respond and adjust wisely. Your child's other parent has died (if you were widowed), or has left the home (if you were divorced), or may be unknown to your child (if you have not revealed the biological parent's identity). Do you know how your children are handling the event that left them with just one residential parent?
Here you must reject a pair of lies. First, do not lose sight of your child's responsibility to love, trust, and obey God despite unpleasant circumstances. A broken home does not excuse unbelief, rebellion, ingratitude, or idolatry. Teenage rebellion is, at the end of the day, rebellion. And rebellion is sin, to be compassionately but wisely confronted.
Second, reject hopeless notions that "doom" your children to future problems simply because they lack two married parents, or because of the negative influence their other parent may exert. Your children are not "victims" or "products of broken homes." They are people—people in God's image—who can know Jesus, follow Jesus, and live meaningful lives that please him. Along with my own testimony, I can name several other godly men and women who grew up with only one parent.
Consider Timothy in the New Testament. We meet him in Acts 16:1 where we learn that his mother was a believer in Christ, but his father apparently was not. What future did this hold for this young man? Listen to his spiritual "father," the apostle Paul, describe what God brought about despite a non-Christian dad:
Have something to say about this article? Leave your comment via Facebook below!
advertise with us
Example: "Gen 1:1" "John 3" "Moses" "trust"
Advanced Search
Listen to Your Favorite Pastors