Facing the Challenges of Single Parenting
Robert D. Jones, M.Div., D.Min., New Growth Press
Monday, March 26, 2012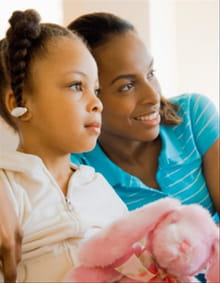 • "I have been reminded of your sincere faith, which first lived in your grandmother Lois and in your mother Eunice and, I am persuaded, now lives in you also" (2 Timothy 1:5).
• "But as for you, continue in what you have learned and have become convinced of, because you know those from whom you learned it, and how from infancy you have known the holy Scriptures, which are able to make you wise for salvation through faith in Christ Jesus" (2 Timothy 3:14–15).
God used a godly mother, a godly grandmother, and a godly mentor to teach and model the gospel for Timothy. He can use similar influences in your child's life, confirming the apostle's encouraging promise in 1 Corinthians 7:14: "For the unbelieving husband has been sanctified through his wife, and the unbelieving wife has been sanctified through her believing husband. Otherwise your children would be unclean, but as it is, they are holy."
What steps might you take as a single parent when your ex-spouse exerts a negative influence on your kids?
• Entrust your child to God. Remember that God owns your child. You are a steward, not the owner. Humbly ask God to work directly in your son or daughter's life, and to use other means of grace to save, protect, and strengthen him.
• Appeal directly to your ex-spouse to change, restrain, or curb offensive behavior, out of love for your children. If that fails, pursue other recourses of appeal or accountability. This might include provisions in your shared parenting agreements for counseling or mediation, or enlisting the help of friends or extended family. In severe cases you may need to contact the police or child protective services.
• Continue to model and teach the gospel to your children, reflecting Christ-likeness that will contrast and counteract in refreshing ways the unbeliever's lifestyle. Ask God to help you walk according to the Holy Spirit—to demonstrate the Spirit's fruit and make Jesus attractive to your children as they face their own forks in the road. In some cases you may need to caution and advise your children before or after they spend time with their other parent: "Daddy may do some things differently than I do. I do what I do because I am trying to follow Jesus. Your dad at this point is not seeking to follow Jesus. Respect your dad, love your dad, and pray for your dad. This is how you should handle it if he…"
• Remind your children that each of them must also decide if they will follow Jesus. They cannot blame any parent, or anyone else, for unbiblical modeling.
• Invite one of your pastors or elders to sit down with you and your children to give them a biblical perspective on what happened in your marriage, how God looks at you and your ex, and how God wants the children to treat each parent as they shuttle between two houses. This is especially vital if your children are being given a sinfully biased perspective on these matters.
In the midst of this, God has given you a practical opportunity to teach your children about his sovereignty, wisdom, and goodness. You cannot resolve all the problems your children might face, but you can convey a rich, big picture of God and his ways. Connect them to the God of all hope, the Romans 8:28–29 God who brings hope and purpose to your life and theirs.
Originally posted October 29, 2008.
---
Excerpted from the booklet, Single Parents Copyright (c) 2008 Christian Counseling and Educational Foundation. Used with permission of New Growth Press.
Robert D. Jones, M.Div., D.Min., is an assistant professor at Southeastern Baptist Theological Seminary and an adjunct professor at Southern Baptist Theological Seminary. He was written counseling articles, the booklets, Angry at God?, Forgiveness, Bad Memories, and After Adultery, and the book Uprooting Anger.
Have something to say about this article? Leave your comment via Facebook below!
advertise with us
Example: "Gen 1:1" "John 3" "Moses" "trust"
Advanced Search
Listen to Your Favorite Pastors