Fasting as a Family
Kristen Feola, Author
Tuesday, December 27, 2011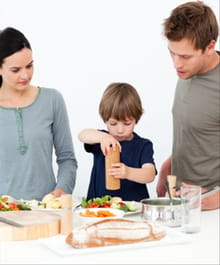 The goal on the Daniel Fast is not to duplicate Daniel's menu but to imitate the spirit in which he sought the Lord. His passion for God caused him to long for spiritual food more than physical food, which should be the ultimate desire of anyone choosing to participate in a fast. Therefore, foods that are allowed on the Daniel Fast are fruits, vegetables, whole grains, beans, legumes, nuts, seeds, and oils. Restricted foods include dairy, meat, sugar, all forms of sweeteners, yeast, refined and processed foods, deep-fried foods, and solid fats.
Getting Your Children Involved
When my husband and I are on a Daniel Fast, our daughters (ages 8 and 6) follow the food guidelines the majority of the time. However, if our fast is during the school year, it's much more difficult for me to control their food intake, even if I pack their lunches every day. Between school parties and snacks at church, it's challenging to make sure everything they eat is Daniel Fast friendly. Therefore, don't worry if your children aren't able to adhere to the food guidelines because of such circumstances. They're still learning the basic concepts of fasting and why it's good to set aside physical desires (certain foods) for spiritual purposes (to pray for the salvation of others). Just the fact that they're fasting with you will sow seeds of faith in their hearts that one day will reap a harvest of righteousness.
The extent of your children's involvement in the Daniel Fast will depend upon their ages and spiritual maturity. Ask the Lord to show you what will work best for your family dynamic, and trust Him to give you wisdom. Following is a list of ideas that will help you move through each stage of your fast:
Before the Fast
Sit down with your children and discuss the definition of a fast. Look at examples from Scripture, such as when Esther called a 3-day fast (Esther 4:16) or when the Israelites prayed before their 900-mile trek to Jerusalem through difficult and dangerous territory (Ezra 8:21-23). Talk about what God how God answered their prayers.
Read the story of Daniel's 10-day test in Daniel 1 to give your children an idea of Daniel's character and how he refused to violate his convictions. Take a look the account of Daniel's 21-day fast in Daniel 10. Explain how the modern-day Daniel Fast is following the prophet's example of devotion to prayer.
Talk about which foods you are going to give up during your fast. Emphasize that such foods are not bad or wrong, but that you are abstaining from them temporarily as a way to honor the Lord.
Make a list of people for whom you want to pray.
Go grocery shopping together. Even though it may mean more time at the supermarket (and more patience on your part!), make it a family event. Have older children select produce for you. Let a younger child hold the shopping list. You'll make your kids feel special, and they'll be more likely to be excited about the fast.
Get a copy of my book, The Ultimate Guide to the Daniel Fast, to encourage you and keep you on track.
During the Fast
Pray together each evening. This commitment will be a challenge, especially with school and church activities during the week. However, do your best to make this family time a priority. Keep it simple and brief. Otherwise, your children will lose interest. One activity to try with your children is The Prayer Game (see sidebar). Get creative with your ideas, and your children will look forward to bringing their needs before the Lord.
Invite your kids into the kitchen to assist with meal preparation. Even though it will mean more work for you, it will be worth it. Assign older children the job of rinsing and chopping vegetables. Allow younger ones to set the table and fill glasses with water. Ask your husband (or wife) to wash the dishes. Get the whole family involved!
After the Fast
Have something to say about this article? Leave your comment via Facebook below!
advertise with us
Example: "Gen 1:1" "John 3" "Moses" "trust"
Advanced Search
Listen to Your Favorite Pastors