Finding True Contentment: Every Mom's Greatest Hope
Laurie Lovejoy Hilliard & Sharon Lovejoy Autry, Authors
Thursday, April 14, 2005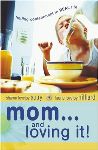 "I realized just how much God loves us. I never knew the true depth of His love until I had our first child. I then understood unconditional love and what it meant to be a child of God."
~ Ann
I know what it is to be in need, and I know what it is to have plenty. I have learned the secret of being content in any and every situation, whether well fed or hungry, whether living in plenty or in want. I can do everything through him who gives me strength."
~ Philippians 4:12-13

My friend Janie has the best attitude. I (Sharon) don't think I've ever heard her complain. She's always got an encouraging word to share and would never intentionally offend anyone. She keeps up with my birthday as well as other special events in my life, sending notes that are both uplifting and challenging. In one of her notes she wrote, "The joy and memories that you've made during these days are treasures more valuable than gold" (Matthew 6:19-21). She reminded me, "Lean on the Lord, having no doubts of His love for you" (Romans 8:38-39).
I've kept that letter in my bathroom for over a year, just so I could be reminded to lean on the Lord each day as I opened my medicine cabinet. Janie diligently studies God's Word, encourages others with His Word, lives a life that shines with contentment, and has a face that is radiant. She has a smile that won't quit and a laugh that is so sincere it makes her eyes squint.

Janie is that friend you could call who would be there no matter what, the friend that would do anything for you -- at least anything that her wheelchair would allow. You see, she was born with cerebral palsy, a condition that has kept her from walking her whole life and forced her to be dependent on others for even the simplest things. She's never been married and has no children. So how can she be so content?
The World's Solutions for Finding Contentment
I've often heard two pieces of advice given on talk shows, at church, and friend to friend about how to make yourself feel better, how to be more content. The first cure for discontentment goes something like this:
1. Look around; when you do, you'll always find someone who is worse off than yourself. That will help you have a thankful heart.
I've tried this strategy, sort of "guilting" myself into a thankful heart. It doesn't take long for me to find someone who has less money, a harder life, an unhappy marriage, a smaller house, or physical attributes that aren't particularly desirable. For a while it works, but those "good, thankful" feelings only last until I look outside of myself and see someone else whose situation is better than my own. Then it's easy to be envious and discontented all over again.
Another popular cure for gaining contentment with yourself is to simply:
2. Be positive.
There is nothing wrong with positive self-talk. Many times it's a choice we have to make, but being positive isn't the final cure. There are some days that I can stay upbeat, but other days fatigue, the weight of responsibility, and certain times of the month can steal my ability to see anything positive in my circumstances.
Janie's Contentment
Janie has a thankful heart and an incredibly positive outlook on life, but she didn't become that way by finding someone worse off than herself or by just being positive. Her reasons for being content in her circumstances are by-products of the strength she finds in Christ. She has a personal relationship with Jesus Christ, which began on April 23, 1978 (the same day I started my relationship with Him), and from that time till now she has depended on Him and has grown to love Him with her whole heart, soul, mind, and strength.
Have something to say about this article? Leave your comment via Facebook below!
advertise with us
Example: "Gen 1:1" "John 3" "Moses" "trust"
Advanced Search
Listen to Your Favorite Pastors