Finding True Contentment: Every Mom's Greatest Hope
Laurie Lovejoy Hilliard & Sharon Lovejoy Autry, Authors
Thursday, April 14, 2005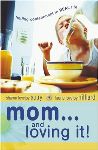 There is no other solution that can give you the ability to have a foundation of thankfulness--regardless of your situation or circumstances. Because of Christ, Janie has a grateful heart and a positive attitude that make her radiant even in her confinement.
So it doesn't really matter what our circumstances are. We opened this chapter with the Scripture written by Paul in Philippians 4:12-13. Paul said he had learned to be content in every circumstance; he knew what it was like to be in need and to have plenty. Sometimes as a struggling mom, I think, "Good for you, Paul, 'cause I'm not there!"
Paul's statement "I have learned the secret of being content" is truly amazing when you find out what Paul actually went through. He was whipped, beaten with rods, stoned, imprisoned, shipwrecked three times, and spent a day and night in the open sea--not exactly favorable circumstances by anyone's standards! (See 2 Corinthians 11:24-27.)
What was the secret he learned? In the next verse he says, "I can do everything through him who gives me strength." The Message says it like this (v. 13): "Whatever I have, wherever I am, I can make it through anything in the One who makes me who I am." Paul realized that his ability to be content came as a result of his strength through Christ, not because of himself or his circumstances, not because of positive self-talk or finding someone in a situation worse than his own.
You might ask, "As a mom, why do I need Jesus?" One mom said,
About a year ago I was completely exhausted from the quandary of who am I when all of the important people in my life needed me to be something different. I joined a small group Bible study and really started focusing major attention on my relationship with the Lord, and in that still, quiet voice, He reminded me of who I really am: His child. Now I bring that to all five of the wonderful blessings in my life, and I've found that I don't have to change who I am to meet their needs ... God just meets their needs through me! (Suzanne)
When your strength runs out you can lean on His strength. Lean on Him and never doubt His love for you. The key is not a religion; it's a real relationship with Jesus. If you go to church and just go through the motions He is not real to you. He can't do anything for you because you aren't truly trusting Him with your life.
Stop, Drop, and Restore your Soul
Did you know that God knows how many hairs you have on your head? (See Luke 12:7.) Do you care how many hairs you have on your head? I don't. But God cares about the little things in our lives. He cares that you need a good parking space at Wal-Mart when you have small children, or that you want your child to hit the ball instead of striking out, again. He cares about it all -- relationships with our husbands, children, in-laws, friends, co-workers.
Talk to Him about anything that concerns you. Thank Him for what He has done for you. (I really do pray for a parking place at Wal-Mart, and you would be amazed at the spots He has provided.) When we trust him with the little things it's easier for us to see His answers to the bigger problems in our lives.
1. When you find someone in a situation worse than your own, how long does your "thankful heart" last?

2. How does the statement "just be positive" make you feel as a suggestion for contentment?

3. What are your thoughts about having or needing a relationship with Jesus?

4. What are some things you've been worrying about? Have you prayed and asked for God's direction in these areas?
Have something to say about this article? Leave your comment via Facebook below!
advertise with us
Example: "Gen 1:1" "John 3" "Moses" "trust"
Advanced Search
Listen to Your Favorite Pastors