Finding True Contentment: Every Mom's Greatest Hope
Laurie Lovejoy Hilliard & Sharon Lovejoy Autry, Authors
Thursday, April 14, 2005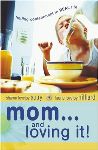 Lord,
You know every problem I've faced, every disappointment, every person who has caused me pain. You understand my situation better than I do. Draw me to Your side, Father. Everything that has happened in my life hasn't been good, but You promise that all things will work into something good. Help me to see Your plan for my life. Thank You for making me a priority, for planning my life before my parents knew I was part of the plan. Help me live my life, not in my own strength, but in Yours. I want to depend on You, not the ideas the world offers. Help me grow to love You more and more every day. Thank You for washing away all the sins I've committed, even the ones I would be ashamed to tell anyone about. Thank You for giving me life. It's because of You, Jesus, that I have hope. In Your name I pray. Amen.
Making the Most of the Moments
1.Getting to know God. One of the best ways to make the most of the moments in your life is to spend some of those minutes getting to know God.

One mom shared: "Once I had children, my daily quiet time became extremely important. It is at that time in the morning that I can focus my thoughts, prepare for the day, ask God for help and wisdom. I need His help every day, and in drawing closer to Him, I am more content" (Michelle). How do you do that? Here are some ideas for you to try (we would never expect a busy mom to do them all).
A. When you go walking, pray--thank God for all He has done and ask Him to forgive you for anything that you know is a sin. Talk to Him about your concerns and requests. You can talk to Him all day long about what worries you, what makes you happy, sad, or exhausted. You have a constant companion, a friend who loves to share it all with you. He is the perfect friend!
B. Read God's Word. Read by yourself if you can; but even if you're reading your kids a Bible story, ask God to open your heart to hear what He wants to say to you. He can speak loudly through those stories!

C. Sometimes reading a book (like you're doing right now) can be part of your quiet time with the Lord. Using a devotional book or Bible study can keep you on track and focused on a particular area.
2. E-mail us!! If you invited Jesus to come into your life, we would love to know. You can e-mail us at mail@momandlovingit.org. Blessings


_____________________________________________________
Excerpted from: Mom... and Loving It! by Laurie Lovejoy Hilliard and Sharon Lovejoy Autry. Copyright © 2005; ISBN 0764200399. Published by Bethany House Publishers. Used by permission. Unauthorized duplication prohibited.



Have something to say about this article? Leave your comment via Facebook below!
advertise with us
Example: "Gen 1:1" "John 3" "Moses" "trust"
Advanced Search