Following in Dad's Footsteps
Eva Marie Everson
Friday, April 18, 2003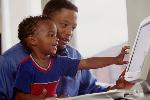 Joseph taught his son well. Jesus worked as a carpenter until His Heavenly Father called Him to fulfill prophecy. Many times, as Jesus was rebuked, scorned, and mocked, He would be forced to see the unfinished "project" as though it were finished. He would need physical strength, both to travel from village to village and town to town, as well as to administer to the needs of the people with hardly a break. Certainly He would need physical strength to endure the cross until the time of His choosing when He would willingly yield His spirit.
Is ministry would require humility (remember the song, "He Could Have Called Ten Thousand Angels"?). Sometimes it may have even felt as though He didn't quite belong.
He was in the world, and the world was made by him, and the world knew him not. John 1:10
Application
It's not so common today for a son to take on the "trade" of his father. Occasionally we might hear of father and son law or medical practices, or see a son take over a family's small business. But it isn't a way of life.
Still, dads, your sons and your daughters are watching your work habits and ethics. Know that while they may or may not follow in your career choice footsteps, the chance is great that they will follow in your attitudes.
As I prepared for this article, I questioned several dads about what they had learned from their fathers work habits. Six out of seven gave almost the exact answer to my question.
Do a job to the best of your ability.
Remember, though you aren't raising the Messiah, your son or daughter's work in future years may change the course of history. How will that reflect on you?
Wrap Up
So what have we learned from Joseph's example thus far?
* Coming from good stock begins with you.
* Being a man of quiet wisdom is showing your children (and eventually their children, as your actions will be passed on...) the ways of God.
* Choose God's way over your way for your life.
* Focus on God's plan for your children's lives before your plans.
* Know that your children are watching your work habits...and learning by your example.

Eva Marie Everson is the author of Shadow of Dreams & Summon the Shadows and an award-winning national speaker. She can be contacted for comments or for speaking engagement bookings at Bridegroomsbride@aol.com or you can go to her website here.
 
Other Articles in this Series:
Click here to read Part Four
Click here to read Part Three
Click here to read Part Two
Click here to read Part One.
Have something to say about this article? Leave your comment via Facebook below!
advertise with us
Example: "Gen 1:1" "John 3" "Moses" "trust"
Advanced Search
Listen to Your Favorite Pastors