Give Grandchildren Timeless Love in an Ever-Changing World
Whitney Hopler, Crosswalk.com Contributing Writer
Tuesday, November 11, 2008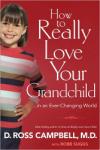 Editor's Note: The following is a report on the practical applications of D. Ross Campbell, MD with Robb Suggs's book, How to Really Love Your Grandchild … in an Ever-Changing World, (Regal Books, 2008).
The world your grandchildren are growing up in has changed in some disturbing ways from the world you knew when you were young. But what hasn't changed is God's call for grandparents to love their grandchildren. Your grandchildren need your influence in their lives to strengthen them in today's world. So answer God's call by making the most of your opportunities to love them.
Here's how you can give your grandchildren the timeless love they need in an ever-changing world:
Help your grandchildren's parents. Building positive relationships with your adult children, son-in-laws and daughter-in-laws will benefit your grandchildren. Express love and respect for them, even when you disagree with their parenting choices. Never try to undermine their rules or question their authority in front of their children. Consider their perspectives on issues. Refuse to react in anger during stressful situations, since doing so will hurt your grandchildren. Keep in mind that what your grandchildren need the most is a safe and secure environment where they feel loved. Avoid competing with your grandchildren's parents for your grandchildren's affection. Make sure the parents don't feel as if you're somehow usurping their place of honor in their children's lives. Aim to be a valuable resource to help the parents, rather than a replacement parent.
Be just as intentional about spending time with, and expressing love for, your adult children and in-laws as you are with your grandchildren. Don't give unsolicited advice; wait until your grandchildren's parents ask for it. If they do ask for it, give your advice in loving, nonjudgmental ways. Encourage your adult children and in-laws to share your grandchildren with grandparents on the other side of the family. Do all you can to be patient, considerate, and unselfish when interacting with everyone in your grandchildren's lives.
Keep in touch well from a distance. If you live far away from your grandchildren, you can still build and maintain close relationships with them. Get an email account and send them short messages often. Set up an affordable cell phone or long-distance telephone calling plan so you can call your grandchildren regularly and talk about whatever interests them and what's going on lately in their lives. Learn how to use text messaging to stay in touch with your grandchildren. Send them care packages full of personal and memorable items, like handwritten letters they can save and heartfelt things like toys or snacks that you know they'd especially enjoy. Make audio or video recordings of yourself describing how much you love your grandchildren or sharing some special stories from your life with them. Then burn CDs of these messages on your computer and mail them to your grandchildren.
See about getting your family together for reunions as often as possible. Make the most of the times you're able to visit your grandchildren, by purposefully spending one-on-one time with each of them through special activities like nature walks or picnics. Help your grandchildren's parents pay for travel costs to come visit you
Rely on God's help if you're asked to parent your grandchildren. A crisis in your adult children's lives may cause circumstances that stress them to the point of asking you to take over some of their parenting duties. Think and pray carefully before deciding to take on those responsibilities. Remember that you can't take good care of your grandchildren if you don't take care of yourself first. If you can't reasonably meet your own needs while parenting your grandchildren, it's best for your grandchildren to decline to do so and help their parents find other resources.
Have something to say about this article? Leave your comment via Facebook below!
advertise with us
Example: "Gen 1:1" "John 3" "Moses" "trust"
Advanced Search
Listen to Your Favorite Pastors