God's Plan for Your Children Before Self
Eva Marie Everson
Friday, April 04, 2003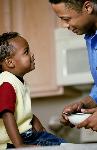 There have been plenty of times I've put my "wants" on hold on behalf of my kids. Superficially speaking, I've given up nice cars, better vacations and a fatter checking account because of my children. ~~Wayne, a dad

As I sat on the bride's side of the church, watching with about 200 others, as the bride and groom exchanged their vows, I couldn't help but shed a tear or two. Not only did I love this young couple, I had admired their spiritual commitment to God, which rose sharply above their desires for themselves. I knew they were coming together in purity; that this very night they would open the last of their wedding "gifts;" the one from their Heavenly Father. The "two would become one flesh."

For this reason a man will leave his father and mother and be united to his wife, and they will become one flesh. Genesis 2:24

As they were pronounced man and wife, they turned to face the congregation-those of us who had come to witness the joining of their lives, hearts, and souls-and the pastor introduced them for the first time as "Mister and Missus."

He looked lovingly at her.
She gazed shyly back at him.
My breath caught in my throat.
What a joyous moment!
 
Naturally, as soon as the reception was in full swing, the "ha ha" comments started. Teasing remarks led to a blushing bridegroom and his new bride.
 
Somehow, I think, those of us who have been married for some time make these comments in order to keep that which is so serious and so sacred and sometimes so scary...light. In a strange way we wish we could all go back and relive that moment...that night...that precious, precious night. As the honeymoon car -- graffiti-ed in balloons, shaving cream and shoe polish -- drives away, we who are left behind with nothing but slightly romanticized memories look at one another and sigh.
 
Let's be honest here. What's next for the newlyweds is the moment we've hopefully all waited for. Suffered for, at times.
 
Men, would you be willing to put the opening of that "gift" on hold, were God to require it of you?

Think About It

I remember a friend of mine from high school days. Every time she saw her "honey," she broke out in a sweat. Literally. What makes us think Joseph and Mary were any different than we are today? What makes us imagine that the sight, presence, and the mere voice of the other did not stir the two of them? God, in His goodness and love, created us thusly. 
 
It has always interested me that when God pronounced the "garden curse," on Eve and her female descendents, He added a little addendum: To the woman he said, "I will greatly increase your pains in childbearing; with pain you will give birth to children. Your desire will be for your husband...~~Genesis 3:16

Even though we know that childbirth will be painful, we will desire our husbands. These words were spoken to Adam and Eve...and the natural desire between husband and wives has been there ever since. Sadly, Satan has used it skillfully; it has toppled kingdoms and driven men to madness. Books and plays and poems and sonnets haven been composed about it and today it has been trampled by television and movies as common and ordinary. But Christians know its value, its preciousness. This is God's gift to the husband and wife.
 
And Joseph was told to put it "on hold."

This is how the birth of Jesus Christ came about: His mother Mary was pledged to be married to Joseph, but before they came together, she was found to be with child through the Holy Spirit. Because Joseph her husband was a righteous man and did not want to expose her to public disgrace, he had in mind to divorce her quietly. But after he had considered this, an angel of the Lord appeared to him in a dream and said, "Joseph son of David, do not be afraid to take Mary home as your wife, because what is conceived in her is from the Holy Spirit. She will give birth to a son, and you are to give him the name Jesus, because he will save his people from their sins." All this took place to fulfill what the Lord had said through the prophet: "The virgin will be with child and will give birth to a son, and they will call him Immanuel" --which means, "God with us." When Joseph woke up, he did what the angel of the Lord had commanded him and took Mary home as his wife. But he had no union with her until she gave birth to a son. And he gave him the name Jesus. ~~ Matthew 1: 16-25

Have something to say about this article? Leave your comment via Facebook below!
advertise with us
Example: "Gen 1:1" "John 3" "Moses" "trust"
Advanced Search
Listen to Your Favorite Pastors