Help Kids become Leaders
Whitney Hopler, Live It Editor
Monday, November 08, 2004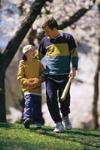 • Help them build good character. Know that great leadership begins with great character. Build these character qualities in the kids you're helping: integrity, honesty, diligence, patience, humility, responsibility, self-discipline, courage, perseverance, fairness, tolerance, compassion, self-sacrifice, and faith.

Model good character for kids by being a person of absolute integrity. Give your kids regular religious instruction. Serve others. Involve your kids in sports, where they can build character as part of a team. Praise and correct kids on the basis of character. Allow kids to experience the consequences of poor choices. Talk to kids about heroes. Post inspirational quotes in your home to remind your kids of positive values.

• Help them build competence. Recognize that competence is a combination of five qualities: knowledge, experience, confidence, commitment to excellence, and competitiveness. Help kids gain knowledge through education. Encourage them to take opportunities to gain the experience that will improve their skills. Affirm them and believe in them to increase their confidence. Teach them, through your words and example, to be committed to excellence. Give them plenty of opportunities to test their competitive spirit. Urge kids to use their God-given talents as they lead.

• Help them be bold. Give kids opportunities and challenges that will build their confidence and stretch their courage. Motivate them to take risks and take bold stands for their convictions and principles. Be an example of bold leadership so they'll remember you as a role model when they face challenges of their own. Help kids approach leadership as an adventure.

• Help them be servants. Point to Jesus Christ as the ultimate role model for leaders - a servant leader who loves and empowers people. Help kids avoid being bosses who seek to wield power for its own sake and try to control others. Encourage them to be humble and think of what's best for the team instead of just themselves.

Help them give up attempts to control, view servanthood as an end in itself (not a means to an end), examine and purify their motives for wanting to lead, live a lifestyle of love and caring, be obedient followers as well as leaders, humbly depend on God's power rather than their own, and share recognition and glory with others rather than hoarding it for themselves.

• Mentor them. Invest your life into a child in a deep and personal way to help that child's character grow. Be an active role model who befriends a child, helps the child learn, and encourages him or her to put that learning into practice.

Strive to be that child's hero! Spend time with the child on a regular basis, getting to know him or her well. Discuss values, goals, and faith together. Let the child know that you recognize and appreciate specific good qualities you see in his or her life. Keep lines of communication open. Seize every teachable moment. Express your unconditional love, acceptance, and forgiveness. Be consistent and dependable, keeping your promises. When you're wrong, admit it. Remember that the child you mentor is constantly watching you; make sure your words and behaviors are positive ones.

Develop a vital relationship with God. Talk about character, attitudes, and virtues. Talk about heroes. Let kids see you do hard work, and join you in it. Praise good efforts kids make, even if they fail. Set firm limits. Know how the child you mentor is doing in school, and help that child succeed academically. Have fun together.


Adapted from Coaching Your Kids to be Leaders: The Keys to Unlocking Their Potential, copyright 2005 by Pat Williams. Published by Warner Faith, a Time Warner Book Group, New York, NY, www.twbookmark.com.

Pat Williams is the senior vice president of the Orlando Magic basketball team. He is a popular motivational speaker averaging more than 100 appearances a year. Williams has spent 42 years in professional baseball and basketball as a player and executive. He served as general manager of the world champion Philadelphia 76ers and managed the Chicago Bulls and Atlanta Hawks. Williams is the author of 32 books. He and his wife Ruth are parents of 19 children, including 14 adopted from four nations.




Have something to say about this article? Leave your comment via Facebook below!
advertise with us
Example: "Gen 1:1" "John 3" "Moses" "trust"
Advanced Search
Listen to Your Favorite Pastors